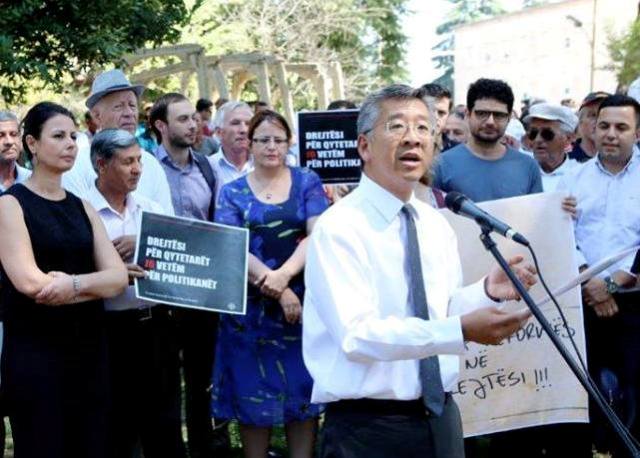 Tirana, 20 July 2016/Independent Balkan News Agency
US ambassador to Tirana, Donald Lu issued an unprecedented warning yesterday by saying that "there would be specific negative consequences from the United States of America for those political leaders who will vote against this reform".
Mr. Lu's public statement came during a rally held by different organizations yesterday in Tirana, in support of the voting of the judicial reform on Thursday, 21 July.
Mr. Lu criticized the fact that according to him, the opposition changed its stance several times and "now, for the first time, they say that due to the national sovereignty, they cannot accept for foreigners to assess the qualifications for the commissioners".
This is a constitutional amendment which is backed by the Albanian majority and where foreigners are allowed to have decision making power in evaluating and selecting prosecutors, judges and officials in several other institutions".
"This is strange", said ambassador Lu, who warned measures against politicians who are against, including MPs:
"I have delivered to political parties the details of these consequences, based on specific instructions by Washington" and added: "I assure you that these consequences will be serious and long-term".
***
Through sources by the US embassy, media in Tirana learned details on the consequences from the USA.
The least consequence is the application of the "black list" for these politicians, who will not be allowed to travel to the United States. Given that the stance can be coordinated with the EU, these consequences may also be applied by EU member countries.
Of course, the biggest consequence will be the "stain" that will be put on the right wing opposition for an indefinite period.
But what are the punitive measures that MPs who do not vote the judicial reform are expected to be subject to?
The US President's "black list". This list is drafted each year and it doesn't only prevent the movement of the officials in question to the USA, but it also blocks their assets and properties in this territory. It also forbids US administration officials from having any contacts with these officials.
The "black list" of the US president is considered to be the biggest political punishment.
Given the big influence that USA have on their allied countries and the fact that the action for the reform is coordinated with the European Union, there's a possibility that the same punishing measures will also be applied by the EU for Albanian politicians who reject the judicial reform.
Tomorrow (21.07), everyone will learn if the package on the judicial reform will be passed or not by the Albanian parliament.
Full Remarks by Ambassador Donald Lu on Judicial Reform (July 19, 2016)
"Yesterday after the short meeting between Mr. Rama, Mr. Meta and Mr. Basha, our experts met for 8 hours of intensive negotiations until 2:00 in the morning.
But they did not reach a deal.
After 18 months of negotiating, why do we never reach a deal?"
Why?  Because, clearly, some of these politicians do not want a deal.
Two weeks ago, I heard loudly from Basha and Bylykbashi that if we would solve paragraph 88 and they would vote for the reform the next day.
We solved paragraph 88 on July 9.  Rama finally gave up and offered them exactly what Basha had demanded, a process of selection called 6 plus 6.
But this was not enough.  Now, for the first time, they say because of national sovereignty they cannot accept foreigners making assessments of the qualifications of commissioners.
Well that's strange.  On May 19, Basha told Amb. Vlahutin and us that foreigners were the only people who could clean the head of the fish.  He told the same thing to EU deputies Kukan and Flekenstein.  Bylykbashi included it clearly into his formal, written proposal that he sent to us.  Now suddenly they are changing their position.
Why?  Powerful people are afraid.  Citizens are demanding change.  It is time to decide.
There will be specific negative consequences from the United States for political leaders who vote against this reform.  I am delivering details of these consequences to political parties on specific instructions from Washington.  I can assure you that these consequences will be severe and long-lasting.
In the last days I have met dozens of deputies, from all political parties.  I am convinced that these people have the best interests of Albania in their hearts.  They all want this reform.  The question is whether they will have the courage to vote for what they know to be right for Albania, or they will vote because of fear of their party leaders.
Albania was founded more than 100 years ago by courageous men and women.  Men like Ismail Qemali risked their lives for the independence of this nation.  Now it is again time to ask Albanians for courage and the confidence to do what is right.
Now is the time to decide.  Pass this reform". /balkaneu.com/