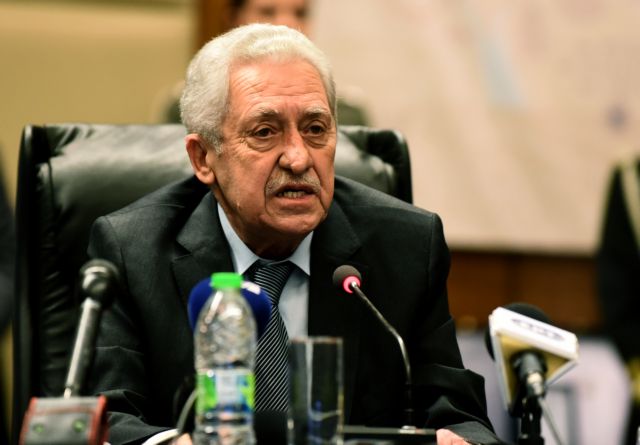 Greece's Alternate Minister for Defense, Fotis Kouvelis, says the country is an "undeclared war" with neighboring Turkey in the Aegean Sea.
Speaking on national television, Kouvelis said of the earlier comments of Turkish Prime Minister Binali Yildirim about a Greek flag being taken down by the Turkish Coast Guard on an islet in the Aegean, that "the Ministry of Defense is aware of the information and media reports".
Kouvelis added that he has asked to be briefed systematically by the competent bodies of the Armed Forces.
This latest reported incident comes as tension between Greece and neighboring Turkey has increased in recent weeks. Interceptions and dogfights have become more frequent in the Aegean as political figures in the two countries have exchanged aggressive comments.
The two neighboring countries are also at odds over the two Greek servicemen held by Turkey after straying into the country's territory, and eight Turkish officers who requested political asylum in Greece after a failed coup in Turkey nearly two years ago.
Commenting on the issue of the two servicemen, the Greek Alternate Minister said their arrest is unacceptable and the charges they face are completely unfounded. Kouvelis accused Turkish President Recep Tayyip Erodagan and the PM Yildirim of "speaking their own legal language" with regard to the issue.
Athens has been involved in a diplomatic effort to achieve the release of the two soldiers. Fotis Kouvelis pointed out that the Greek government expected a more dynamic stance by NATO, of which both Greece and Turkey are members.
Last week, a 34-year-old pilot of a Greek fighter jet tragically died after the plane crashed into the Aegean Sea off the island of Skyros. It was suggested that the Μirage 2000-5 was earlier involved in a dog fight with Turkish planes and was returning to its base after the operation.
According to local media reports, Greece-Turkey relations show no signs of improving and may be about to take a turn for the worse if the war in Syria is escalated further. Reports suggest that Turkey could allow refugee flows to Greece increase as a means to apply pressure on the country and the European Union by extension./IBNA