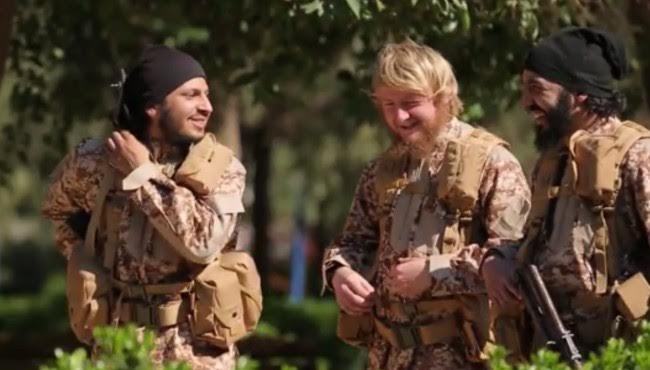 INTERPOL has issued a red warrant for BiH citizen Alija Keserović (23), who is allegedly associated with terrorism and the IS.
Media in BiH reported that for Keserović, who was born in the small city of Bužim in West Bosnia, a red warrant was issued at the request of the judicial authorities of BiH for the criminal offenses of organising terrorist groups and the illegal association with foreign para-police formations. He is the 20th citizen of BiH for whom INTERPOL is looking for links to terrorism. It is a shepherd who served to Bilal Bosnić, an informal leader of the Wahhabi community in BiH, who was sentenced to seven years in prison. According to data from security services, Keserović is in Syria since 2014.
Two years ago, Keserović appeared in the propaganda film "The Islamic State" under the title "Structure of the Hilafet" in which this terrorist organization praised numerous "war successes".
According to media, Keserović's friend, Naser Arnaut, who was also on the warrant, died 15 days ago in a raid in Syria.
Nobody knows the exact number of BiH citizens who have left the country to join the ISIL forces, but the law enforcement agencies in the state are ready to investigate any such person and to bring them to court. BiH laws say that these persons can be sentenced to time in prison if they join foreign forces or propagate the departure on battlefields abroad. The most known person sentenced for that kind of crime is Bilal Bosnić, Keserović's boss, who held lectures about the "holy and righteous struggle" for the freedom of Islam in Syria and Iraq. He was sentenced to seven years of prison, but many of his followers went to fight in these countries.
One of returnees who are sentenced is Osman Abdulaziz Kekić, who has been prosecuted for illegaly establishing the group and joining foreign paramilitary or para-police formations, in connection with departure to the Syrian and Iraqi battlefields and joining the structures of the IS terrorist organisation.
On first instance, the court acquitted Kekić of the charges, but in the second instance, after the procedure was conducted, he was found guilty and was sentenced to two years in prison. Third instance BiH High Court, increased the sentence to one more year. BiH Prosecution Office expressed satisfaction, saying that the sentence is in accordance with the crime committed.
"To date, for the illegal formation or association with foreign paramilitary or para-police formations, the BiH Prosecution Office has indicted 24 people. There have been no acquittals for these crimes and all the accused have been found guilty," the Prosecutor Office statement said.
In co-operation with other police and security agencies, the BiH Prosecution Office permanently work in the discovering and prosecution of persons that committed crimes linked with terrorism. The direct result of that work is the arresting of the Russian citizen, Akhmad Altamirov (24), who tried to enter BiH at the Sarajevo International Airport, two days ago. INTERPOL issued the warrant because of his involvement in the illegal military formation, as a member of a terrorist group. Moscow police demanded the international warrant for Altamirov two years ago…. / IBNA