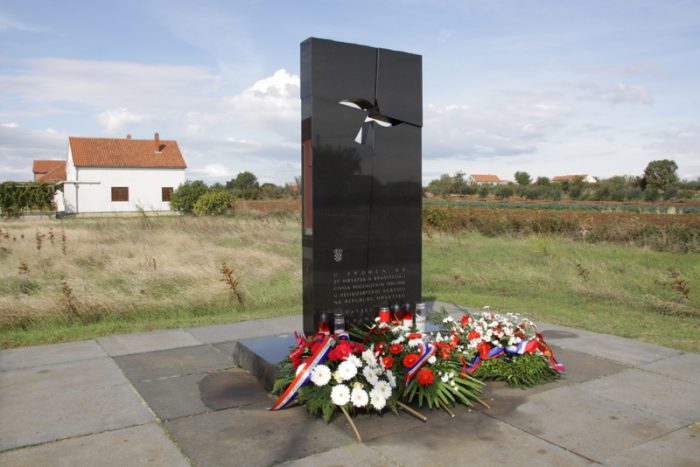 A split of never-ending pain, present-day Balkan states that felt no velvet revolution but, instead, ire is still within thousands, living in the region.
A day before (the news of the charges became known late on Tuesday, November 21) the verdict in the trial of Ratko Mladic, in the Hague, is  heard, these fresh allegations came to further unsettle the memories of all those who went through the breakup of former Yugoslavia and the ethnic atrocities that followed it.
The present allegations of horrific crimes are burdening the shoulders of Yugoslav People's Army soldiers and Serb Territorial Defence fighters. Accusations in the form of a criminal complaint have been filed against them by the Serbian Humanitarian Law Centre (HLC). The troops are said to have killed "48 Croatian civilians in the villages of Skabrnja and Nadin in 1991", reports BalkanInsight.
In the complaint, six identified persons and "several unknown members of the Yugoslav People's Army and the Territorial Defence force" are accused of killing 41 civillians, on November 18, 1991, in the Serb Autonomous Region of Krajina after first entering the Croatian village of Skabrnja located there and demolishing the Catholic Church of the Blessed Virgin Mary. According to the charges, seven others were killed a day later, in the village of Nadin, not far from Skabrnja.
The HLC statement read, "The killings in both locations followed the same pattern – civilians found in homes were dragged out with curses and insults, while members of the Yugoslav People's Army and the Territorial Defence killed them at close range (…)  Most of the victims were elderly, and 16 of them were women, one of whom was immobile."
Although Milan Martic and Milan Babic, two top officials of that period who used to be very powerful have been convicted by the Hague Tribunal for the attacks on Skabrnja and Nadin none of the Yugoslav People's Army or the Territorial Defence members has ever been charged with the crimes in Serbia. Martic and Babic served as former Interior minister and president of the Serb Autonomous Region of Krajina, respectively.
Nonetheless, "former Serbian State Security chief Jovica Stanisic and his then deputy Franko Simatovic are also being retried before the Mechanism of International Criminal Tribunals for various alleged crimes including the attack on Skabrnja."…/IBNA
Photo: Ivan Katalinić