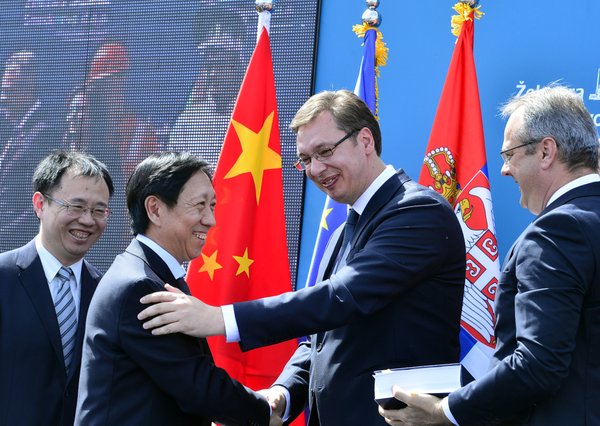 Belgrade, April 18, 2016/Independent Balkan News Agency
By Milos Mitrovic
The Serbian government sold the national ironworks company to a Chinese investor, in a ceremony that was broadcasted live by the state television, followed by fireworks and praises to the Prime Minister Aleksandar Vucic. Loss-making company "Ironworks Smederevo" was sold to "He Steel" company for 46 million euros. Economy minister Zeljko Sertic and "He Steel" CEO Ju Jong signed a purchase agreement today.
The crowds in Smederevo, 45 kilometers from Belgrade, carried banners with "Thank you Vucic" inscriptions and the premier's portraits. The contract was signed amid election campaign in Serbia. Vucic is the leader of ruling Serbian Progressive Party.
Vucic said that a "great day has come to all of us and the Ironworks workers". "You have deserved this day after many years of uncertainty, sleepless nights and worrying whether you would be able to feed your families", Vucic said. "When I came here for the first time and talked to the management and workers, and when I saw the look in their eyes I said that the money was not what's most important… Ironworks is the story about not giving up. We fought to the end and we succeeded. But we wouldn't manage without you, dear workers. We wouldn't be able to do anything", the PM underlined.
"We succeeded because at each of the three meetings I had with the Chinese officials – and at some other meetings – our friends from China have asked us what was the most important to Serbia", he said.
In Vucic's words, an unnamed leader of a "big European country" demanded from the Chinese to purchase its ironworks. "But our Chinese friends told him: Serbia is the priority, we go to Smederevo". He thanked the Chinese leadership announcing the visit of president Xi Jinping.
The "Ironworks Smederevo" rose from the dust like a Phoenix amid the lowest price of steel in history, Vucic went on. The PM told investors that people in Serbia love them.
"I was the premier of the people, and I fought for the people as much as I could. I don't drink (alcohol) but today I will have to, with our friends… Because of the efforts, work and faith we invested".
Ju Jong, CEO of the "He Steel" said that the aim of the company would be to turn "Ironworks Smederevo" into a modern complex, the most competitive one in Europe.