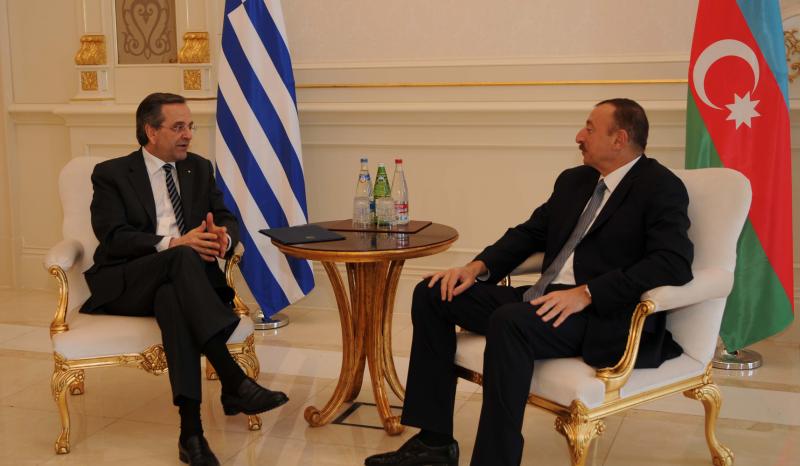 By Lefteris Yallouros – Athens
Three agreements were signed between Greece and Azerbaijan on Monday; one on cooperation in the field of agriculture; a memorandum on cooperation for the European Union issues of Azerbaijan; and a memorandum on cooperation in the field of youth between the Ministry of Youth and Sports of Azerbaijan and the Ministry of Education and Religious Affairs of Greece.
Azeri President Ilham Aliyev, on a two-day official visit to Greece, met with Greek President Karolos Papoulias and Prime Minister Antonis Samaras. Energy issues were high on the agenda of talks held with both the privatization of Greece's gas transmission network (DESFA) and the construction of the Trans Adriatic Gas Pipeline (TAP) discussed at length.
Aliyev and Samaras agreed procedures for the approval of the transfer of a majority stake in DESFA (Natural Gas System Operator) to Azeri energy firm Socar need to speed up. The two sides agreed on the need to avoid any delays in the completion of the transaction as Greece has agreed to sell 66 pct of DESFA to Socar for 400 million euros, a deal currently held up by the European Commission.
Referring to the TAP pipeline, and agreed on the importance of the South Corridor of natural gas towards improving the EU's energy safety. During a working lunch, Greek and Azeri officials discussed a series of practical problems holding up the pipeline project, such as the objections by residents in Greece and Italy. Confidence was expressed by the Greek side that local objections will be overcome and the project will progress smoothly.
In statements to the press, Aliyev and Samaras expressed satisfaction with the successful development of bilateral relations between the countries and stressed there are prospects for the expansion of cooperation in the fields of energy, transport, agriculture and more.
The Greek PM said Greece was a "gateway" for energy, trade and tourism from Asia to Europe while Aliyev described Greece as a "strong player in the region and a long-term partner," adding that TAP, in particular, was not just an energy project but a way to "bring relations to a higher level."
The visit of the Azeri President will be followed by that of Chinese Premier Li Keqiang who is due in Athens on Thursday as the Greek government steps ups its drive to attract investment to Greece and press on with its privatization program. Beijing is reportedly interested in the Piraeus and Thessaloniki port authorities, Athens International Airport and the operating arm of the Hellenic Railways Organization, TRAINOSE.
(Photo AP)