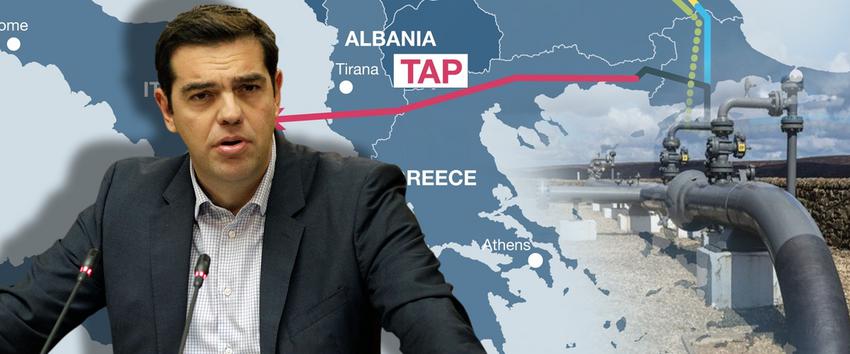 Thessaloniki, May 17, 2016/Independent Balkan News Agency
By Zacharias Petrou
Greek Prime Minister Alexis Tsipras spoke at the inauguration ceremony for the construction of the Trans Adriatic Pipeline which was held in Thessaloniki, northern Greece on Tuesday.
The pipeline will be constructed over the next three years – creating 8.000 jobs – and will offer a direct, underwater transportation route opening up the vital Southern Gas Corridor, a 3500-kilometre long gas value chain stretching from the Caspian Sea to Europe.
Official representatives of the European Union and U.S. State Department as well as high ranking officials from Greece, Turkey, Albania, Italy and Bulgaria attended the inauguration ceremony for which Greece and its South-eastern European neighbors have high expectations as Azeri gas will be transported to other EU countries via the region.
As Greek premier Alexis Tsipras pointed out, the construction of TAP is being carried out "in an important moment for the economy of Greece and the region" adding that "the project has geo-strategic and economic importance."
"The energy map of south-east Europe is being redefined and this turns Greece into an energy hub of the region," he added.
The TAP pipeline that will transport 10 bcm of gas per year to Europe with the first delivery expected in 2020. The project will cost a total of USD 45 billion.
Before coming to power, the Tsipras-led radical left-wing Syriza party had opposed the construction of the Trans Adriatic Pipeline on the grounds that it gives multi-national gas giants power over the government's Energy policy. TAP is owned by BP, SOCAR, Enagas, Snam, Fluxys and Axpo.
In a spectacular turnaround, Tsipras now praised the pipeline, stressing that it will attract additional investments in the energy sector.
"The conclusion of the first review of Greece's bailout program, an agreement for easing the debt and strong signs that growth will resume in the second half of 2016, as well as the inauguration of the TAP natural gas pipeline, are all indicators of this passage to a new era", Tsipras added.
Main opposition New Democracy picked up on the PM's comments, issuing an announcement criticizing Tsipras for "rushing to inaugurate a project he condemned (…) when New Democracy envisioned, designed and launched it.