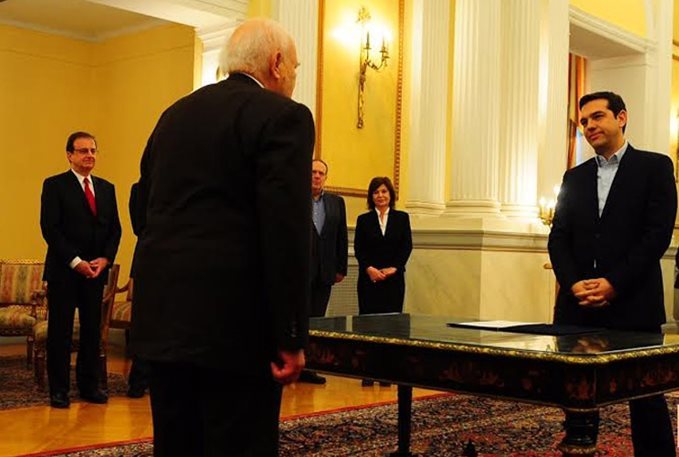 Athens, January 27, 2015/ Independent Balkan News Agency
By Spiros Sideris
With a political oath was sworn prime minister the president of SYRIZA Alexis Tsipras. Before the President of the Republic Karolos Papoulias, Tsipras said: "I want to assure you on my honor and conscience that I will uphold the Constitution and laws, and that will always serve the interests of the Greek state".
A little earlier, in a private meeting with Mr. Papoulias, he received the mandate to form the government. Talking with the President of the Republic, Tsipras expressed the hope that the majority of the 162 MPs to become even greater during the process of providing a vote of trust.
He also informed the President that after the results of the general elections he met with the President of ANEL Panos Kammenos, who told him he would support the new government. "Therefore," he added, "the majority required by the Constitution has been achieved".
Mr. Papoulias replied that he gives the mandate to form a government, with the president of SYRIZA indicating that "it is good to speed up procedures because the road ahead of us goes uphill".
Tsipras was escorted to the Presidential Palace by Nikos Pappas and Panos Skourletis.
The delivery of Maximos Mansion made the office manager of Antonis Samaras, Kostas Bouras, to the office manager of the new prime minister.
Thus, Tsipras and Samaras did not meet.
The first stop of Tsipras, immediately after his inauguration, was the memorial of the fallen in Kessariani.
There he deposited flowers to pay tribute to the executed of the Shooting Range.
According to sources in Koumoundourou, the composition of the new government will be announced on Tuesday.
The shape will be small, composed of ministers and deputy ministers and there will be a homogenisation in terms of old ministries (depending on their function).
The president of Independent Greeks Panos Kammenos will take a ministerial position, and as it became known by his party, he will not ask to be named deputy Prime Minister.