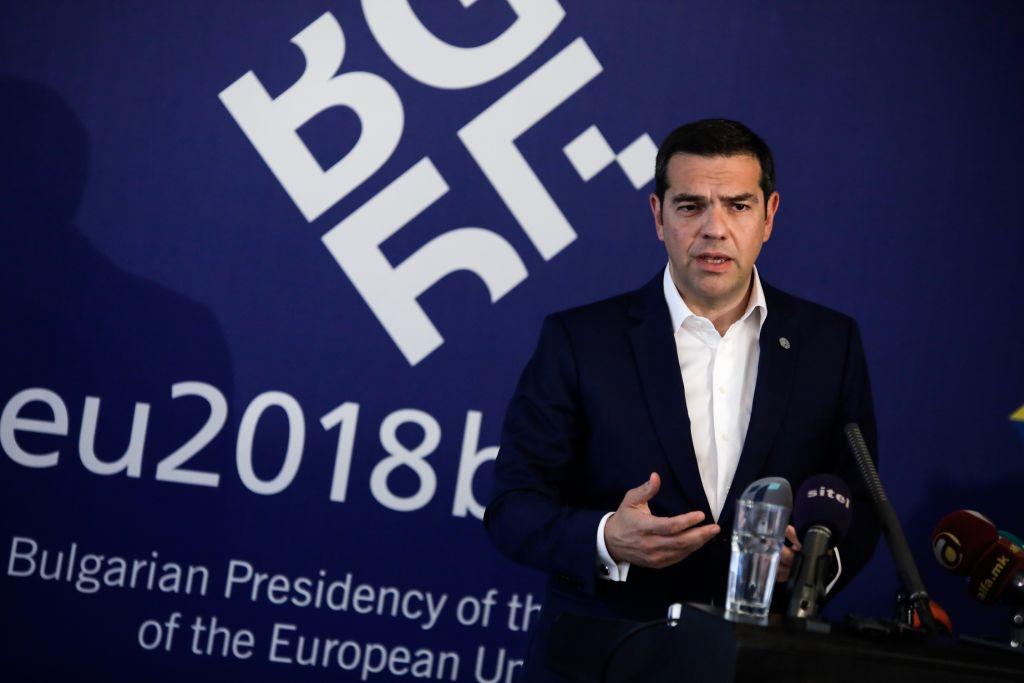 After the meetings he held yesterday in Sofia with his fYROMacedonian counterpart Zoran Zaev, the Greek Prime Minister Alexis Tsipras said that there is significant progress in the negotiations over the name issue. However, as he noted, there is still a long way to go and added that, at this stage, no agreement can be reached.
"Myself and my counterpart from fYROMacedonia, Zoran Zaev, have had very substantial negotiations. After all, a significant advance had been achieved last weekend in Sounio at the meeting of the Foreign ministers of the two countries in the presence of the UN envoy Mathew Nimetz. Still, there are quite a few issues, as it is a complex and multilevel negotiation that needs clarifications. We stayed up till late last night. I think we have travelled a great deal of distance but have to cover more miles. We are examining all details very carefully. But we are not yet in a position to talk about an agreement. There will be future steps so that we can manage to hold one more meeting at the beginning of next month", Alexis Tsipras noted.
We feel the historical responsibility but no time pressure
"We feel the pressure of historical responsibility but there is no time pressure", was the Greek premier's response to a journalist's question about whether he believes the ball is in Skopje's field.
"This does not mean that we are pursuing aggressive tactics against the other side; quite the contrary, without changing our opinion, we understand their problems and try to find a solution", Mr. Tsipras said. 
"We do not have turned over the hourglass. However, there is the accession process and, in that sense, we must have a very rapid development; Let us hope for positive one, if not, then we are here to build good-neighborly relations. Even if we do not manage to reach a positive outcome, tt is good that this effort kicked off", he noted.
Kyriacos Mitsotakis's stance, a positive development
"It is welcomed", Mr. Tsipras said about Mr Mitsotakis' decision to defend the national position on this issue.
"We are negotiating on behalf of all Greeks including those who have disagreements and greater sensitivity. We defend the national positions not our personal ones. In this context, as always, I am available and willing to inform those who want it. It is not  a time for a meeting of the Political Leaders Council. When you defend national positions you have the sense of responsibility that you are not representing only your views and the majority that supports you but all Greeks", Tsipras noted.
Negotiation with Albania more difficult
Mr. Tsipras said that Greece strongly supports the European perspective of the countries of the Western Balkans, including fYROMacedonia, as long as they meet the criteria, noting that at the EU summit scheduled for the end of June, decisions will be made on whether EU will begin accession negotiations with the fYROMacedonia and Albania.
Speaking of Greece's negotiations with Albania on the resolution of bilateral issues, Alexis Tsipras said that these are more difficult than the Greece-fYROMacedonia ones over the name issue because of matters regarding the maritime border and of the rights of the Greek minority in Albania. However, he noted that the negotiations between Athens and Tirana on these open issues are satisfactory and added that significant progress has been made…. / IBNA