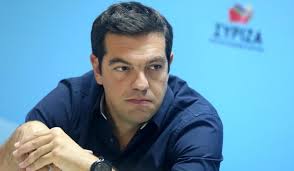 By Spiros Sideris – Athens
A taste of Europe will have the program of Alexis Tsipras in the coming days, as he is leaving tomorrow for the "Forum of Como" at the invitation by the Italian "European House – Ambrosetti" Institute.
The leader of the opposition will not be present in his standard appointments with the protesters at the opening of the TIF, as on Saturday he will deliver a speech titled "The agenda for the change in Europe".
This trip, however, brought new turmoil inside SYRIZA, particularly on the part of Panagiotis Lafazanis, who expressed the view that "it is not acceptable for the opposition leader to not attend the rally in TIF and instead be found behind closed doors in "Villa d'Este".
This murmur, reports the newspaper "Ta Nea", was magnified when prominent party MPs realized that the president of SYRIZA will not be found in any open event, but in a closed forum to the standards of the notorious Bilderberg club, for which many bad things have been said.
The strong reaction of the Left Platform was expressed before the Civil Secretariat by Leoutsakos Stathis, who noted that it is unacceptable for Alexis Tsipras to not going to TIF and instead attend this closed forum.
Indeed, the left wing of the party did not hide their annoyance, especially since the event will be attended by names such as Barroso, Monti, Almunia Asmousen, Trichet, who are all representatives of the "european neoliberal establishment", as mentioned by the Left Platform.
When the president of the party went to the meeting of the Secretariat and learned what had happened stressed that he would answer at the end of the meeting, which, however, did not happen.
From its side, however, Koumoundourou notes that the call to Alexis Tsipra is honorary and "shows the acceptance and interest that exists internationally for the positions of SYRIZA".
This forum has a history of four decades and is held every autumn in the famous resort "Villa d'Este", which in 2009 was declared by the American magazine «Forbes» the best hotel in the world, while Tsipras would find himself around other "heavy" names of the European political and economic scene.
In the list of participants are including, among others, the former Prime Minister of Italy Enrico Letta and Mario Monti, the former European Commission President Jose Manuel Barroso, the banker Jean Claude Trichet, the German Minister Jörg Asmussen, and Commissioners Joaquín Almunia and Michel Barnier.
According to sources from SYRIZA, Alexis Tsipras will reiterate the standing positions of the party for an immediate change of policy to allow the restart of development in Europe. He will also highlight the triptych: ending of austerity, comprehensive settlement of the debts of the Eurozone in a European conference on the debt (along the lines of the London 1953), and a European «New Deal» for a balanced and sustainable growth.