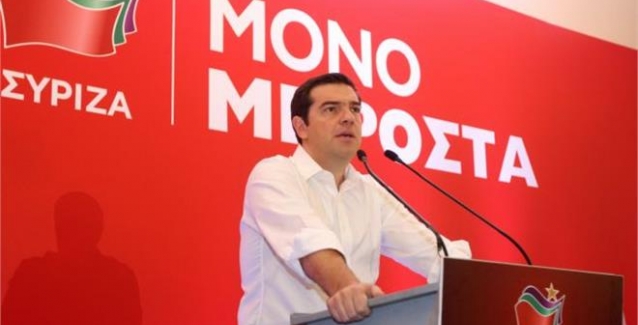 Athens, June 27, 2016/ Independent Balkan News Agency
By Zacharias Petrou
Greek Prime Minister Alexis Tsipras presented the changes he will propose to the country's electoral law.
Speaking before members of his party's central committee on the weekend, Alexis Tsipras announced his government will imminently introduce a draft bill to parliament to change the electoral system, promoting a "simple proportional representation" system.
Among other things, the draft bill will provide for the abolition of a 50-seat bonus to the party that wins the election and the lowering of the legal voting age to 17 years from 18. A "threshold" of 3 pct of the national vote in order for a party to enter Parliament will most likely be retained.
The Syriza central committee approved with a resounding majority on Sunday the proposal put forth by Tsipras.
Sources point out that the Prime Minister appears to be convinced following the meetings he held with opposition party leaders that there is enough momentum to see through parliament certain changes to the election law that could clinch a two-thirds majority (200 votes).
A total of 200/300 votes are needed in parliament in order for the electoral law changes to apply in the next election. If the law changes with a simple majority of 151, the new rules will apply in the election after next.
According to political analysts, socialist "PASOK" and centrist party "To Potami" may be tempted to back a "simple proportional representation" system. Main opposition New Democracy, however, has ruled out supporting any such change as the party believes it will lead to political instability and difficulty forming a stable government.
New Democracy is weary that Syriza's intention to change the electoral law is a clear attempt to make the left-wing party a key player in future elections and stop the conservatives from coming to power – at least not without entering a wider coalition with other parties.
An opinion poll by Public Issue, conducted on behalf of the Sunday edition of "Avgi newspaper" showed 58 pct of respondents are in favor of the "simple proportional representation" electoral system, with 32 pct opposing it.
Furthermore, seven in ten respondents said they prefer coalition governments over 25 pct who said they prefer majority governments. A total of 73 percent also want the way the President of the Republic is chose to change, as they voiced a preference for him to be elected directly by the people.