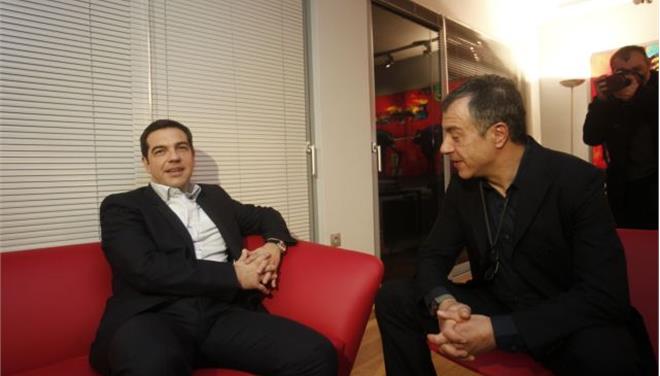 Athens, January 27, 2015/ Independent Balkan News Agency
By Spiros Sideris
With the head of The Potami, Stavros Theodorakis, met on Monday afternoon in SYRIZA's offices in Koumoundourou Square, Prime Minister Alexis Tsipras.
"We wonder of the result of this partnership SYRIZA – ANEL", had stated at noon yesterday, after the announcement of the collaboration of Alexis Tsipras with Panos Kammenos, Stavros Theodorakis, noting that the leader of the Independent Greeks represents anti-European views.
However "The Potami is here and does not change the original position", Theodorakis stressed.
The attitude of The Potami on the vote of confidence or tolerance to the Government of Tsipras can be clarified after the meeting with the new Prime Minister, but "especially following the programmatic statements of the government", said Theodorakis, noting that "there is a bad omen given what has already been announced". "We would expect it is a great opportunity for the country to turn the page. We expect from responsible Prime Minister and not Mr. Kammenos to tell us what he wants to do and we will respond accordingly", he added.
As for what he awaits from SYRIZA, Stavros Theodorakis said that Alexis Tsipras has to keep the country in Europe and to promote changes in Greece.
The head of The Potami criticised Kammenos's stance, commenting that "for the first time the formation of a government is announced by the Head of Sixth Party" and set the "fundamental issue" that "Mr. Kammenos represents far-right and anti-European views", stressing that the questions is "what will be the result of this partnership Kammenos-Tsipras".
"In any case," he added, "The Potami is here and does not change its initial position: we will examine the government proposals one at a time and will be present to either say 'yes' or 'no'".
Asked about the rumors of a possible candidacy for the Presidency of the Republic of Dimitris Avramopoulos, Theodorakis said that in the congratulatory telephone call he received from Avramopoulos the issue did not arise.