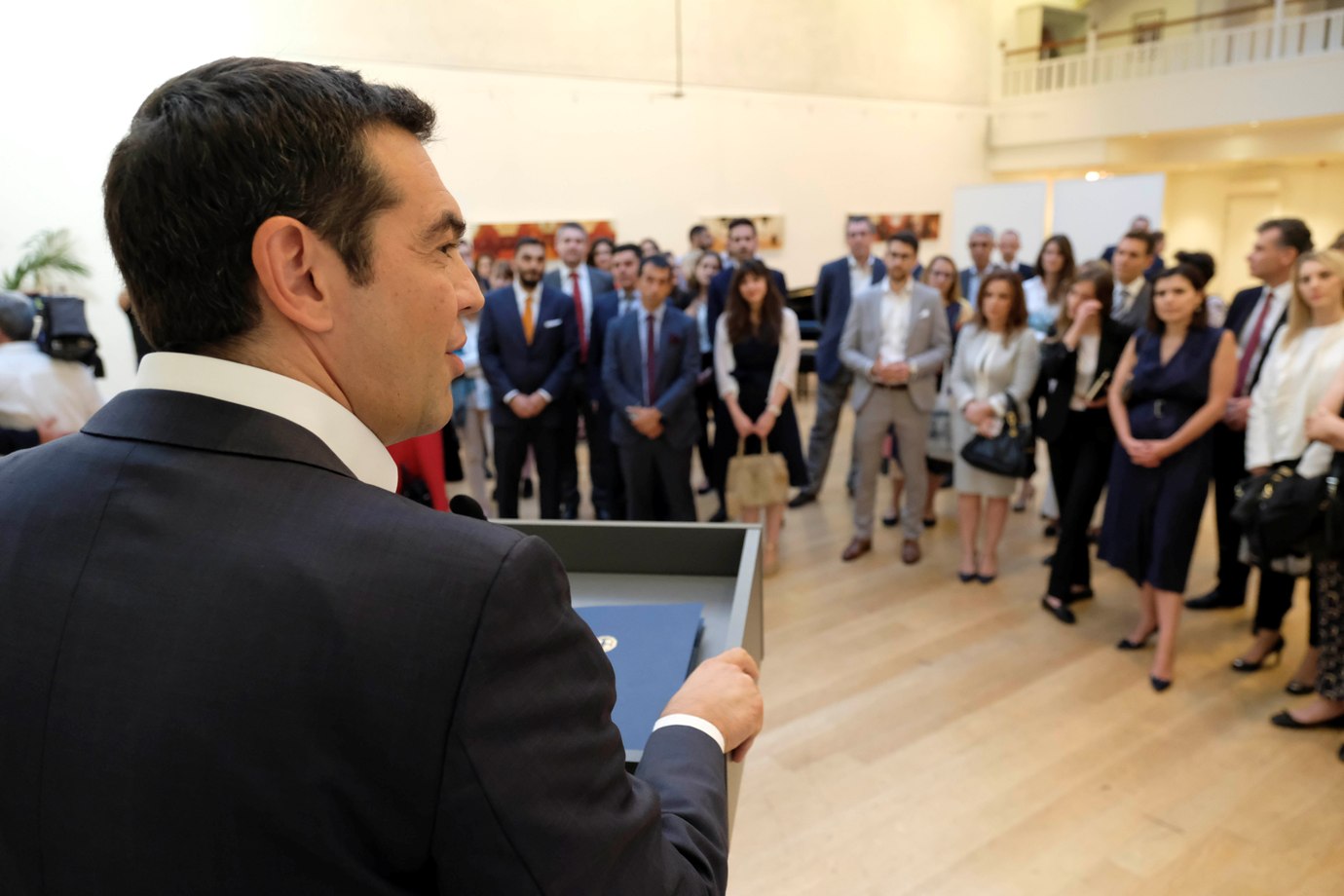 Prime Minister Alexis Tsipras concluded the first of a three-day official visit to London on Monday evening meeting with young Greek professionals, entrepreneurs and scientists at the British capital's Hellenic Centre.
Mr Tsipras talked about the recent Eurogroup deal on managing the country's debt, about his government's plan for economic development and about the prospect of a new dawn following Greece's exit from the bailout programme on 20 August.
He noted that Greece has the potential to become a key country for scientific research, new technologies' development, start-up companies and collaborative projects.
He also referred to funding sources for new business projects in Greece and then asked those invited to speak about what they want to see changing in the country so that the 'brain drain' of recent years can turn to 'brain gain', either by these skilled professionals returning to their mother country or by their achievements and work providing a practical benefit for Greece and its people.
The young Greek entrepreneurs asked for structural changes that will increase transparency and will make the country even more business-friendly, with a reference by some to the need for lower taxes.
They also asked for regular contact with relevant state organisations and departments for ideas of collaboration to develop and provide results.
When arriving to the Hellenic Centre and on his way out, Mr Tsipras was met by a handful of Greek protesters shouting at him, accusing him of "selling out Macedonia" with the Prespes agreement.
Earlier in the day, the Prime Minister was received by Archbishop of Thyateira and Great Britain Gregorios, with whom they discussed the role of the Orthodox Church in supporting the populous Greek and Cypriot communities in the UK.
On Tuesday morning Mr Tsipras will attend an event at London's City where at least 120 representatives of investment funds, banks and other financial firms will have the opportunity to hear how he sees Greece's future once the current bailout programme expires.
In the afternoon he will be received at 10 Downing Street by Prime Minister Theresa May. Bilateral economic and trade relations, Brexit, Cyprus and the Western Balkans are tipped to be high on the talks' agenda.
The day will end with the Greek Prime Minister meeting with the leader of the Labour Party, Jeremy Corbyn.
On the last day of his visit, on Wednesday, Alexis Tsipras will make a speech at the London Business School on the prospects of the Greek economy./IBNA
Photos: PM Press Office/Andrea Bonetti