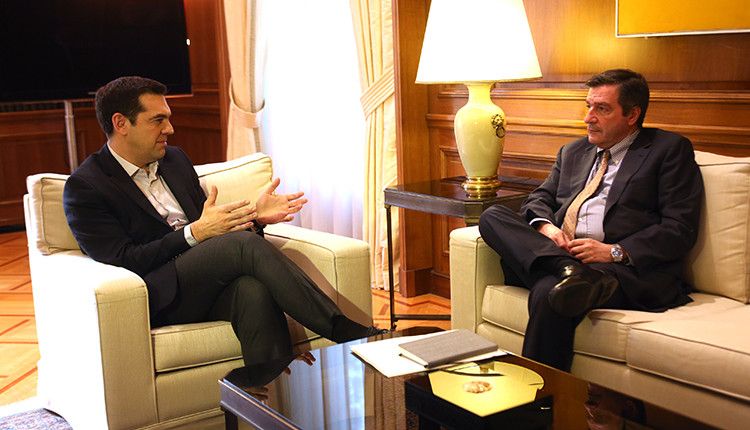 Meeting Athens Mayor Giorgos Kaminis at the Maximos Mansion on Thursday, Prime Minister Alexis Tsipras promised the government's support for initiatives to make Athens a safe and sustainable city.
He stressed that Greece's capital needed "metropolitan-scale" interventions that aimed to improve quality of life for its residents.
Acknowledging that the greatest burden in this effort fell on the shoulders of local authorities, Tsipras also noted a necessity for in-depth discussion with the agencies and organisations involved.
It was up to the municipality to make the final decisions, the prime minister added, "provided we ensure an adequate legal framework and economic viability."
The prime minister also referred to the city's tourism development, saying that "we must all act together given that Athens is becoming an attractive tourist destination."
Kaminis thanked the prime minister for the invitation and asked for close cooperation between primary and secondary-level local government with central government.
"Athens is presented with a great opportunity, since it has seen an increase in tourism for the third successive year," the Athens mayor pointed out.
It must grasp this opportunity and not give visitors the impression of an unsafe city, emanating an aura of urban decay.
"I have much to share with you, both regarding the legal aspects and the financial aspects," Kaminis added.
According to reports in the Greek press, four major urban development projects that will transform the centre of Athens are currently under discussion.
They include an overhaul of the historic city centre from Syntagma to Kerameikos, a new park on Alexandras Avenue on the site of the old FC Panathinaikos Stadium, which is to be demolished, a refurbishment of Goudi Park and the construction of a new stadium for Panathinaikos, and a redevelopment of Elaionas to build new sports facilities.
A government meeting chaired by the prime minister was held to discuss these plans on Wednesday, with Attica governor Rena Dourou attending./IBNA