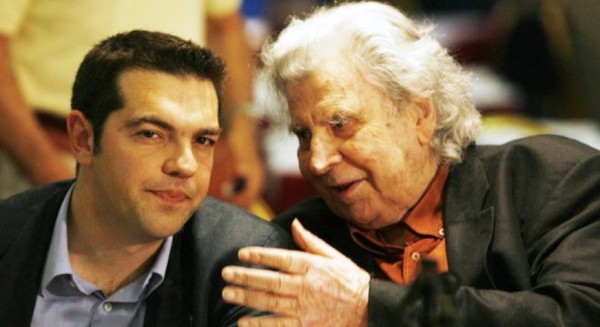 Athens, February 24, 2015/ Independent Balkan News Agency
By Spiros Sideris
In a move with high political symbolism, Prime Minister Alexis Tsipras, is expected to meet at 10:30am Tuesday with Mikis Theodorakis.
Tsipras telephoned the world renowned composer, with whom, according to government sources, had exchanged letters to thank him for the article he had published earlier, on Monday.
In this article, Mikis Theodorakis refers to the outcome of the negotiations and the decision of the Eurogroup and urges the leadership of SYRIZA to resist and say "No" to the rigidity of Schauble. Along the same lines, he calls the leadership of SYRIZA to detach itself from the "charm of the System" and "take refuge to the national legitimacy offered by the majority in Parliament and shift decisively towards the people and to our national wealth, which is wrongly – very wrongly – blatantly ignored".