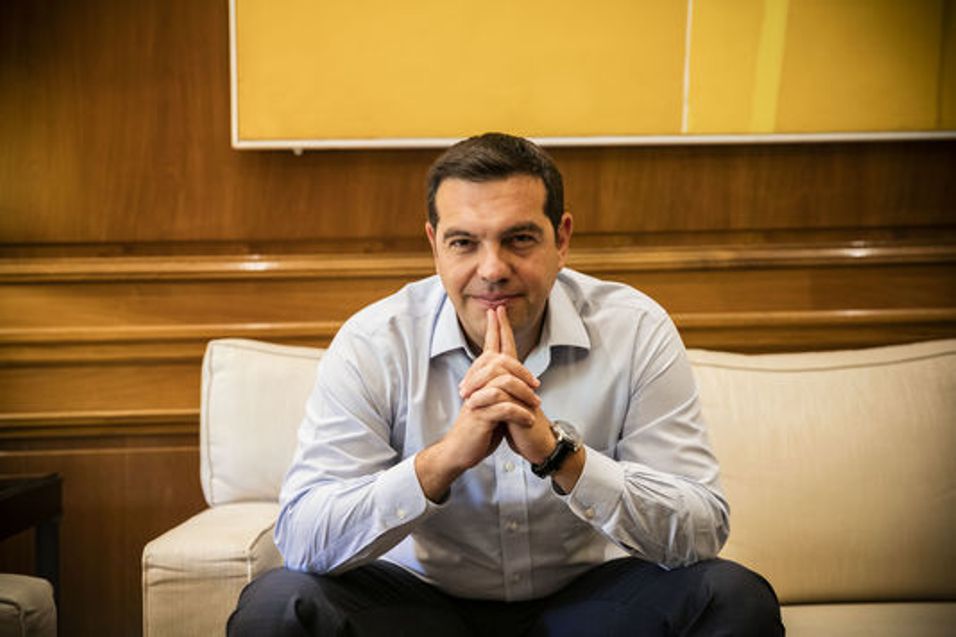 Athens, September 8, 2016/ Independent Balkan News Agency
By Spiros Sideris
Greek Prime Minister Alexis Tsipras was interviewed by journalist Adea Guillot and Alain Salles, specially dispatched by Le Monde newspaper.
Alexis Tsipras who is organizing a Summit of Mediterranean European countries (Cyprus, Spain, France, Italy, Malta and Portugal) in Athens on Friday 9 September in which, among others, Francois Hollande and Matteo Renzi will participate, wished the "Summit of the South" initiative is lasting, whichever the governments are in each country and their political origin. On the same day in Brussels, the Eurozone Finance Ministers, will examine the economic situation in Greece. In the interview, the Greek Prime Minister is implicitly demanding debt relief for his country.
After Brexit, Europe is divided. The East-West contrast is intensified by the Visegrad countries. Is the organizing of this Summit not likely to further strengthen the division that exists between northern and southern Europe?
Our goal is not to create a group based on division at all. Instead, we want to favor a common approach, in favor of countries on the European periphery and the Mediterranean that have objectively suffered the most from the crisis. We have common problems, which we need to answer with common solutions. We are the countries that were in the eye of the storm as regards the refugee crisis, the economic crisis and the crisis associated with safety from terrorism. Today, we have the North that is accumulating surpluses and a South that is suffering from the existence of large deficits. There is no European convergence as long as such disparities exist. The debate on the future of Europe cannot be dominated by the Visegrad countries. I respect their views but we are talking about a Europe of 27. There is a social deficit that allows marginal types, racists, to become key players of all of Europe. I believe that to continue – after Brexit – to pretend as if it was nothing serious to be a tragic mistake. Europe is experiencing a deep crisis, it is like sleepwalker moving towards the cliff. A wakeup call is needed. If we continue to build Fortress Europe with all the more policing, failure will be complete.
Do you want to ask exactly for the end of the Stability pact?
I am a realist. Correlations for those opposing neoliberal policies are not favorable. But, as long as we can't change the rules, we must be able to ensure some exceptions in relation to the Stability Pact, increase measures favoring growth and more effective tackle unemployment. These rules do not work. Growth in Europe is very slow, we have 22 million unemployed … It is not the word of God but rules we have agreed ourselves and which we must improve. It is not the Gospel. If we don't give priority to work, Europe will be threatened with disintegration, with dismissive referenda and anti-European governments within the Union.
Since your rise to power in January 2015 have defended the idea of a chapter change in Europe. Nobody followed you then, why do it now? What has changed?
It is true that for a long time we have been the black sheep of Europe. I believe our partners have understood that the Greek experiment should not be applied elsewhere in Europe. They also understand that the crisis is not about Greece only, but throughout Europe, and that Greece was a pole of stability in an unstable territory. There are problems in Turkey, crisis in Syria, Libya … We are a pillar, a guarantor of security for the whole of Europe in this area.
The countries invited on Friday have governments that are mostly social democratic … and you, since you made an entire campaign based on the call against austerity, ultimately made privatizations, lowered pensions, increased taxes: have you become a social democrat?
This is not so; but in the European Council I am closer to social-democratic leaders compared to leaders of the Right. We heralded an alternative policy that crashed into the wall of EU neoliberal intolerance. And when we reached the point of crashing into the wall we were forced into a painful compromise and went to our people via an election who voted voted us into government again. Despite this, we exploit the leeway we have to introduce measures with a social character.
Do you regret the July 2015 referendum that gave a lot of hope and then disappointment when you had to retreat?
That I am alive today in this office with you is because of that referendum! That Greece is no longer the black sheep is down to the fact that the strength of the soul of the people was heard and that I managed with a clear mind to take the decisions I had to in the following days.
With 23.5% of the active population unemployed, estimated annual recession rate at 0.2% or 0.3%: 20 months after you came to power Greece is still stagnating economically. Why?
First because we are still on a strict policy of fiscal adjustment. But things are improving slowly – slowly. Unemployment fell from 26% to 23.5%. The recession is much smaller than what everyone estimated. According to our projections we will return to growth from this year and we await growth higher than 2.7% in 2017.
Besides, being voted government does not mean that you have the power immediately. I had to fight against the mafias, against the oligarchy. We suffered setbacks and scored victories. There is a slow recovery, partly because we don't see our partners showing necessary generosity on the issue of debt relief. If they refuse to proceed on this issue, it will be difficult for my country to return to growth.
Your creditors are indeed committed to offering relief for Greek debt which is more than 328 billion euros. But, especially Berlin, does not want to open the case before German election next May. A very sensitive issue especially after the failure in the last regional elections for Chancellor Merkel. Is there a new blocking situation or not?
There are 27 democratically elected governments in Europe. Elections don't just happen in Germany! We should collectively decide if we are a European Union or a German Europe. A European Germany, strong and democratic is preferable to a German Europe that acts like a "savings bank" with excessive surpluses. We have endured but it is now time for Europe to signal a way out of the crisis. For the Greek people and to restore confidence in financial markets. This is not something that concerns only Greece and Germany. It concerns the whole Eurozone as well as the ECB and the IMF. The IMF said loud and clear that by the end of the year it will abandon the Greek program if there is no progress on the issue of debt. Perhaps every obstacle is for the better… because then the success of the Greek fiscal adjustment program would be the responsibility of Europe exclusively.
Without the European debt agreement in a reasonable time it will be difficult to explain the sacrifices of the Greek people; will you able to avoid early election and remain in power until the end of your term in 2019?
Elections will take place at the end of our mandate. We are here for four years. And finally, our people will be able to compare our work with that of our predecessors and I'm sure we will renew our mandate for another four years, at least!
Are you afraid that the EU-Turkey deal for the refugees will be disputed and are you ready to deal with a new influx at your shores?
Admittedly we arrived at a fragile agreement with turkey and we will make every effort to sustain it despite the difficulties. I don't want to be pessimistic; I'm almost certain that this agreement will be maintained. Turkey however has experienced severe tensions. We want to be honest neighbors. We want to support Turkey and it to support us. The immigration crisis is neither European nor Greek, it is global. Europe should show solidarity and a certain burden sharing. It is unacceptable to see that out of 33,000 planned relocations for 2016 only 3,000 have been carried out. It is also unacceptable that some countries are building walls at our borders. The walls were demolished throughout Europe in 1991. We cannot accept such intolerance, contrary to the founding principles of the Union. We do not accept that some countries have criticized Greece despite it being the country that showed the greatest humanity. We host thousands of refugees and we have contributed much financially despite our troubles.