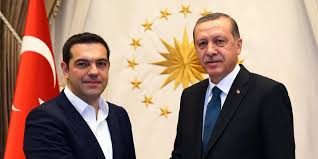 Athens, May 23, 2016/Independent Balkan News Agency
By Spiros Sideris
With an eye to the implementation of the EU-Turkey agreement for the management of refugee flows, many European leaders expect assurances from Turkish President Recep Tayyip Erdogan in Istanbul, where they will take part in the Global Humanitarian UN Summit.
In this context, of particular interest is the meeting of Greek Prime Minister Alexis Tsipras with Recep Tayyip Erdogan, as the EU-Turkey agreement is considered "key" to dealing with refugee flows in the Aegean.
The bilateral meeting between the Greek Prime Minister with the Turkish President will be held Monday, at 18:00, on the sidelines of the World Humanitarian UN Summit, hosted in Istanbul.
According to government sources, in the bilateral meeting with Erdogan, Tsipras is expected to highlight the importance of the EU-Turkey agreement on the management of refugee flows and the central role it plays in the effective management of the refugee crisis.
The Greek prime minister will seek the continuation of Greek-Turkish cooperation in this context, in order for the agreement to work and pay off.
Beyond the issue of the agreement, the agenda includes the Greek-Turkish relations, with the same sources indicating that the prime minister will raise the issues of the Turkish military activity and violations in the Aegean.
However, he will also refer to areas of Greek-Turkish cooperation, following the recent Greek-Turkish Cooperation High Council in Izmir, last March. In addition, discussion will revolve around the regional developments.
The Greek Prime Minister has too more very important meetings scheduled, one with Angela Merkel and one with John Kerry. With the German Chancellor the discussion will be focused on the closure of the evaluation and the impairment of the greek debt, while from the American Foreign Minister will be asked his support towards the IMF and its positions on the greek program.
The schedule of A. Tsipras at the World Humanitarian Summit
As part of the UN Summit participation, Mr Tsipras will have speeches and interventions. The premier's schedule in the Humanitarian Summit UN is as follows:
The program starts Monday with the reception of Leaders by the UN Secretary General, Ban Ki Moon, and the President of Turkey, Recep Tayyip Erdogan in Istanbul Convention Center (Istanbul Congress Center), 07:30 – 07:50. Following that, from 08:00 – 10:00 there will be a meeting of Leaders (Heads of Government) under the UN Secretary General, followed by the Opening Ceremony of the Summit (10:15 – 10:45).
The plenary of the World Humanitarian Summit will take place from 11:00 to 18:15. The Prime Minister will also participate in the round table on "Do not leave anyone behind: a commitment to address forced displacement".
The Prime Minister will be accompanied in Istanbul by government spokeswoman Olga Gerovasili, Deputy Minister of Migration Policy, Yannis Mouzalas and the deputy Education, Research and Religious Minister Theodosis Pelegrinis.