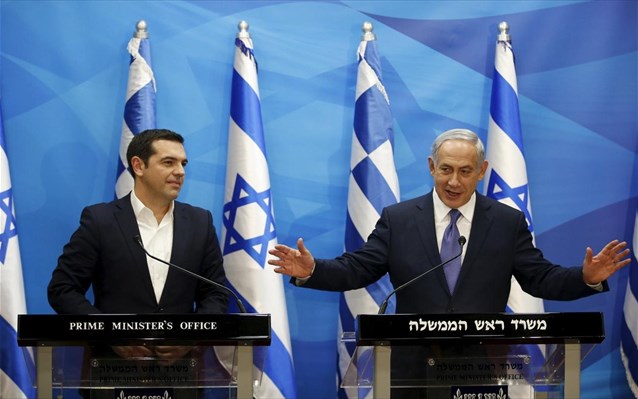 Athens, January 27, 2016/Independent Balkan News Agency
By Spiros Sideris
Alexis Tsipras will be on an official visit to Jerusalem on Wednesday, nearly two months after his trip to Israel and the warm welcome he received from the Israeli Prime Minister.
The cooperation of the two countries will be sealed on January 27 when the intergovernmental meeting will be held, headed by Prime Ministers Alexis Tsipras and Benjamin Netanyahu, with the participation of 10 ministers from each country, while the following day there will be a trilateral summit in Nicosia between President of Cyprus Nikos Anastasiades, the Greek and the Israeli prime minister.
Alexis Tsipras will be accompanied by ten ministers, including foreign minister Nikos Kotzias, alternate citizen protection minister Nikos Toskas, deputy tourism minister Elena Kountoura, transport, infrastructure and networks minister Christos Spirtzis, shipping minister Theodoros Dritsas, Kalternate research minister Kostas Fotakis, state minister Nikos Pappas, minister attached to the PM and government spokeswoman Olga Gerovasilis, alternate foreign minister Dimitris Mardas.
Among the memoranda of understanding and agreement, in the focus of the bilateral summit of January 27 will be the sectors of research, tourism, water management, infrastructure, energy, public policy and environmental issues, innovation, immigration, security and terrorism.
After completion of the works there will be joint statements, while in an attempt to highlight the value placed on innovation and technology issues, the competent ministers are expected to engage in separate statements.
Both the Greek and the Israeli side estimate that this bilateral summit constitutes a major development in individual relations, since the sides worked hard to Jerusalem and Athens to promote the agreements and the issues that will be raised.
Israel considers as extremely important the fact that the Greek PM is visiting for the second time the country within a very short time, while Greece looks forward to working with Jerusalem in issues of infrastructure and technology, security and response to natural and environmental disasters. Greece values highly the expertise of Israel in the desalination of water, which the Greek side wants to use for the Greek islands.
As for the trilateral summit, it will be held Thursday, January 28 in Nicosia, between Cypriot president Nicos Anastasiades, the Greek PM and the Israeli PM with the participation of Ministers of Tourism and Energy on three sides.
Jerusalem believes that the tripartite is the first step in a broader collaboration, which involved Cyprus, Israel and Greece, and among the topics to be discussed will be innovation, immigration, the terrorist threat that concerns the wider region, water management, energy, environment and tourism.
Each country, in fact, will be in charge of an issue and will formulate a plan under which it will operate in practical terms, by implementing a specific long-term plan of cooperation.