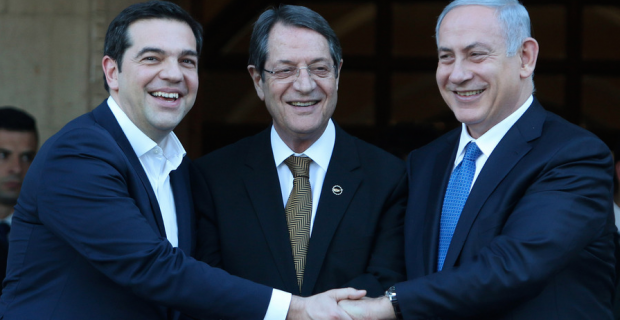 Greek Prime Minister Alexis Tsipras will visit Jerusalem on Thursday 8 December to participate in the 2nd tripartite summit between Greece, Cyprus and Israel.
The issues that will be in focus are energy, environment, tourism, research & innovation, fighting terrorism and the Cyprus issue.
The Greek PM will be accompanied by Environment & Energy Minister Giorgos Stathakis, deputy Foreign Minister responsible for European Affairs Giorgos Katrougalos, Sokratis Famellos Alternate Minister of Energy and Environment, the Foreign Ministry's General Secretary for International Economic Relations Giorgos Tsipras and government officials.
The President of the Republic of Cyprus will be accompanied by Foreign Minister Ioannis Kassoulides, Agricultural Development & Environment Minister Nikos Kougialis and government spokesperson Nikos Christodoulidis as well as other government officials.
On behalf of the Israeli side, Prime Minister and Minister of Foreign Affairs Benjamis Netanyahou will participate along with Minister of Natural Infrastructures, Energy and Water Yuval Steinitz and Director General of Ministry of National Infrastructures, Energy and Water Resources, Shaul Meridor.
According to the official agenda, the bilateral contacts will begin at 10 AM (local time) at the King David Hotel with the Anastasiades, Netanyahou meeting taking place first followed by that of Alexis Tsipras with the Israeli PM. At around 11 AM the tripartite meeting of the three leaders will begin.
Subsequently, statements to the media will follow and a working lunch will be hosted by the Israeli Prime Minister. At the same time, trilateral ministerial meetings will be held to discuss energy and environment issues.
Israel, Greece and Cyprus have set up a trilateral committee to examine the possibility of laying a gas pipeline from Israel to Cyprus, and then to Greece for the export of natgas to the rest of Europe.
Natural Infrastructures, Energy and Water Minister Yuval Steinitz said, following a meeting with his colleagues from Greece and Cyprus in September, that the underwater pipeline was "one of the most promising projects" under examination.
In January, the three leaders stressed in their joint declaration that their new strategic axis was not exclusive, and – in a nod to Egypt and Turkey – stated that they would gladly welcome other states with similar goals into this alliance.
Diplomatic officials said that Thursday's meeting will be a follow-up to the January summit. Following that summit the countries pledged closer cooperation in seven fields: energy, tourism, research and technology, environment, water management, anti-terrorism and migration.
The recent fires in Israel, as well as a massive fire in Cyprus in June, have put another issue on the agenda: firefighting and rescue cooperation. Both Greece and Cyprus immediately sent firefighting planes to Israel last month when the country was ravaged by fires, and Israel sent firefighting planes to Cyprus in the summer when it faced a major fire of its own.
The Greek Prime Minister will find some time to visit the holy grave and be briefed on the recent revelations that took place in the place where the body of Jesus was said to have been placed./IBNA