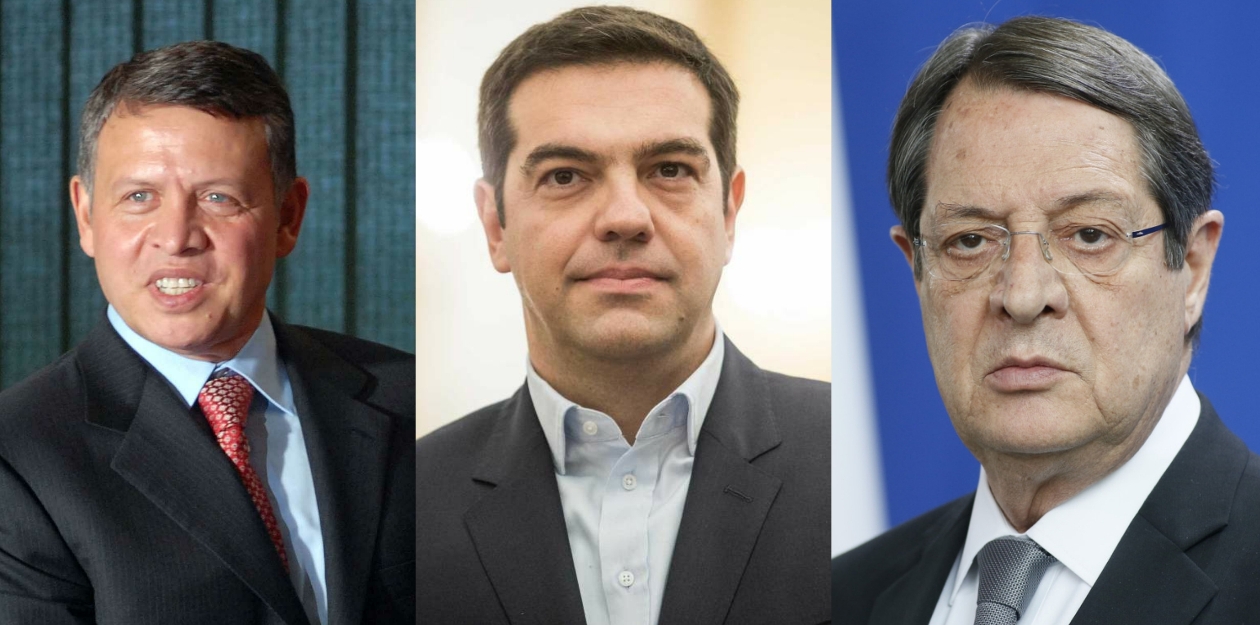 The Greek Prime Minister, Alexis Tsipras will be in Nicosia, Cyprus, on Tuesday, January 16, 2018, to participate with the President of the Republic of Cyprus Nicos Anastasiades and Jordanian Abdullah II in the First Trilateral Summit between Cyprus, Greece and Jordan.
The very good relations between the Hashemite Kingdom of Jordan, with Greece and Cyprus, are certified by the First Trilateral Summit, expanding the co-operation between Greece and Cyprus in the troubled Middle East region.
It is the fifth trilateral co-operation between Greece and Cyprus in the region; before this one, they have worked closely with Egypt, Israel, Palestine and Lebanon. These partnerships, beyond the economic co-operation they promote, strengthen the dialogue on peace and prosperity in the (wider) region.
According to IBNA, the issues to be discussed will concern the future of the region, with particular emphasis on Syria, as the refugee crisis is troubling not only Greece but Jordan, too. The Palestinian issue and developments after the decision on the transfer of the U.S. Embassy from Tel Aviv to Jerusalem will also top the agenda of the talks.
Leaders will also engage in EU-Jordan relations' talks, as it is the country's (Jordan's) desire to come closer to the EU, with the role of Greece and Cyprus being considered very important towards this direction.
Finally, according to IBNA, the three leaders will discuss bilateral economic and cultural ties; moreover, according to the Jordanian Ambassador to Cyprus, Mohammad Sharari Al Fayez, who gave an interview to the Cyprus News Agency (CNA), four agreements on education, health, agriculture and energy will be signed. In addition, the three countries are expected to sign three tripartite Memoranda of Understanding, including maritime issues and cultural heritage, as well according to the Jordanian Ambassador. Amman seeks comprehensive bilateral and trilateral relations between countries, as Al Fayez noted.
According to the programme of the Summit, Greek Prime Minister Alexis Tsipras will be welcomed at 10:00 (local), at the Presidential Palace, by Nicos Anastasiades and after laying a wreath at Makarios' statue, there will be a bilateral meeting between the two men. At 12:00, there will be a private get together of Alexis Tsipras with Cypriot President Nicos Anastasiades and Jordanian King Abdullah II, followed by an enlarged trilateral Summit.
At around 13:15 (local -Cyprus time) there will be a joint presser with leaders' statements to the media, and three texts of agreements will be signed at the end of the press conference, on Maritime Affairs, Environment and Culture.
President Nicos Anastasiades will host a working lunch to the delegations, followed by a bilateral meeting between Alexis Tsipras and Abdullah II.
Leaders will be accompanied by ministers and government officials…/IBNA