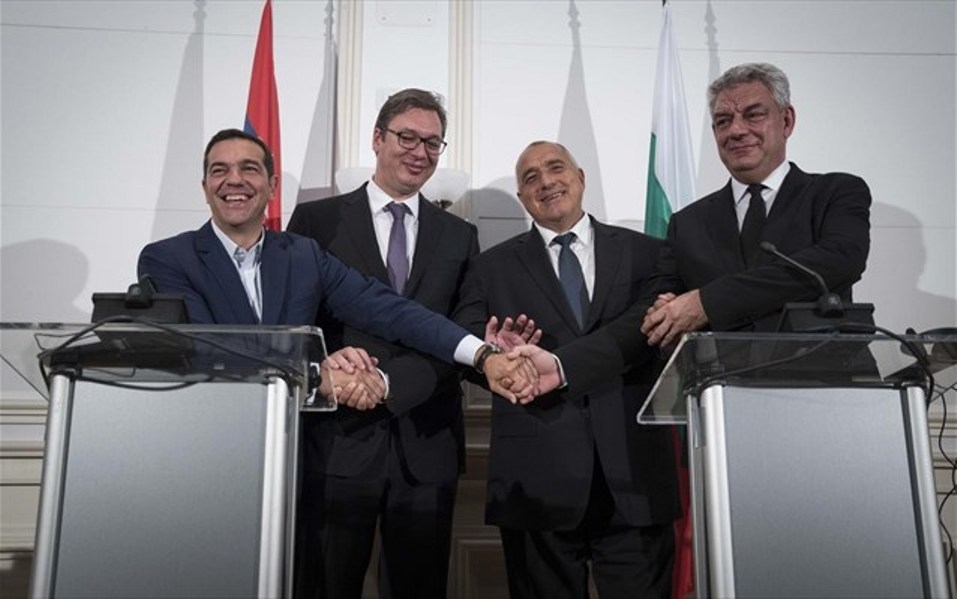 Alexis Tsipras will travel to Belgrade on December 8-9, only hours after the the Turkish Prime Minister Recep Tayyip Erdogan will have concluded his visit to Athens, to participate in the 2nd Quadrilateral Summit between Greece, Bulgaria, Romania and Serbia.
Two months (in early October) after the first Quadrilateral Summit was held in Varna, Bulgaria, Aleksadar Vucic will welcome the Prime Ministers of Greece, Bulgaria and Romania, on Friday, December 8, 2017, Alexis Tsipras, Boiko Borissov and Mihai Tudose respectively.
According to IBNA sources, the Serbian President Aleksandar Vucic will have a working dinner organised on Friday evening at the Villa Mir (Irene) to honour his three guests. The actual Summit will be held on Saturday, when a bilateral agreement between the Serbian Transport Minister Rasim Ljajic and his Bulgarian counterpart Yvaylo Moskovski will also be signed. A joint press conference will follow, and, later on there will be a tour at the Belgrade Waterfront, "an urban renewal development project" led by the Serbian government which aims at "improving Belgrade's cityscape" as well as the local economy.
With this second meeting of theirs, the four leaders reaffirm their commitment to cooperation for the benefit of the their countries and the other states in the Balkans. Beside the issues of economy, transport and energy, the latest developments in the Western Balkans will be part of the discussions, the safeguarding and strengthening of the stability and the European perspective of the region.
The revival of the Thessaloniki Summit in 2003 was put to the table of the 1st Quadrilateral Summit of Varna, where, with the Bulgarian EU Presidency in the first half of 2018 in mind, it was decided that an EU-Western Balkans Summit will be organised in Sofia, in May 2018.
As was stressed at the Varna Summit, the Presidency of Bulgaria in 2018 and of Romania in 2019 will be a "jointly Balkan" one. Furthermore, it is considered to be a great opportunity to strengthen democracy, stability, security and cooperation for the development and integration of the countries of the Western Balkans into the EU.
Major development projects such as the TAP pipeline, the IGB vertical corridor, the Eastern Mediterranean pipelines, the Thessaloniki-Belgrade/Thessaloniki-Rousse railway interconnections are all of great importance and will top the agenda of the four-day Summit in Belgrade. 
Greece's cooperation with Turkey, which will be initiated with the visit of the Turkish President to Athens, one day before the Belgrade Summit, will one more joint co-operative effort to be added in the development projects that will be examined in the Serbian capital. As Turkey's Deputy Prime Minister Hakan Cavusoglu told Turkish media a few days ago, talks with President Recep Tayyip Erdogan and the Greek government will focus on the coastal link between Izmir and Thessaloniki and on the road and rail highways that will connect the two countries.
Upgrading the Southeast European region has a direct effect on Turkey, too, as, the latter it the junction where the Middle East and the Gulf countries meet on the way to Europe and where China will "pass from" within the framework of the "one belt one road" initiative…/IBNA