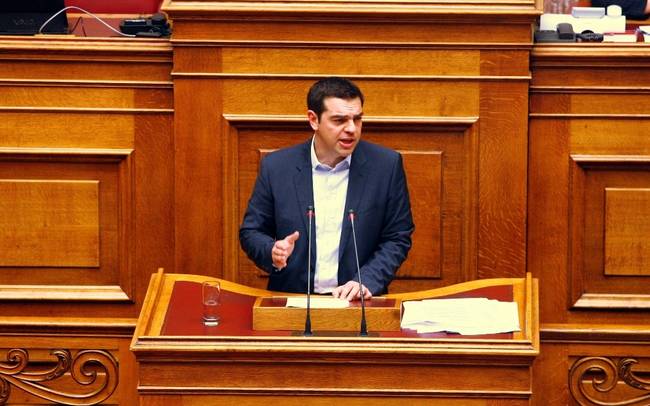 Athens, October 8, 2015/ Independent Balkan News Agency
By Zacharias Petrou
Prime Minister Alexis Tsipras addressed parliament in the early hours of Thursday during the debate of the government's four-year policy program.
Alexis Tsipras focused on attacking opposition parties in most of his speech for not having "any alternatives to propose" and being "obsessed with power". "The opposition seems to have abandoned its consensual tactics. They forgot it all in just one day" the Greek Prime Minister said.
"We expected to hear some alternatives to our policy proposals by the main opposition. We heard nothing about growth, no plan at all" he added.
The premier had some positive forecasts on the economic front as the government braces for the first review of progress made in its bailout program, a mix of austerity measures and structural reforms.
"You can't access capital markets when the economy ranks so lowly on competitiveness" Tsipras said adding that the country must regain market access through stable steps. "In 2017 we will return to capital markets"he predicted.
Outlining the short term priorities of the government, Alexis Tsipras mentioned:
The recapitalization of the banking system will be concluded before the end of the year.
The first review process will be concluded within November.
Upon completion of the first program review, talks over a debt relief could begin imminently.
The Greek PM also appeared certain that this parliament will see the country exit the crisis at the end of the four year term of the Syriza-ANEL coalition government.
Earlier on Wednesday evening, French Preisident Francois Hollande told the European Parliament in Strasbourg that the European Union's negotiations with Greece should now take a look at easing the country's debt burden.