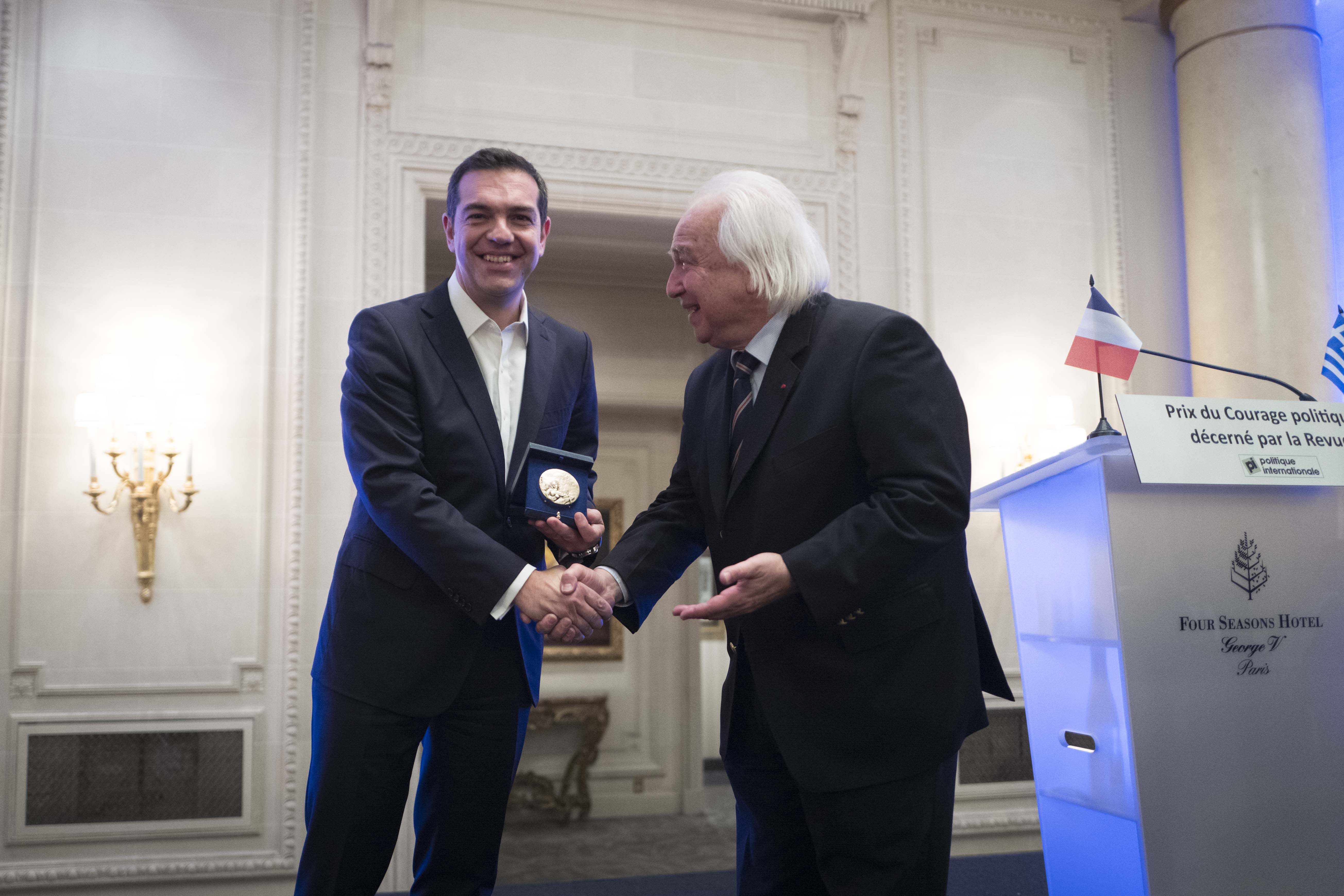 The symbolic award of the Greek Prime Minister Alexis Tsipras on Thursday 23 November in Paris by the founder of the French political magazine Politique Internationale with the "Prix du Courage politique" award and his award by the Paris Bar Association with the "Prix de l'Engagement Européen" confirms that Alexis Tsipras is now fully accepted by the until-recently-doubters in the West, of his policy.
The Greek Prime Minister is known to have established a special partnership with France, which began when Francois Hollande was president and has been maintained and upgraded under the presidency of Emmanuel Macron. The French President backs Alexis Tsipras a lot as far as the next day in the EU is concerned, which looks like as a one-way street. The delay in forming a government in Germany may perhaps temporarily upgrade the role of Emmanuel Macron, who has to deal with several issues within the EU. Of course, there is no power gap in Germany, but that does not mean that the existing German government can actually handle and work on issues related to the European policy.
The close Greek-French political cooperation also concerns economy, as Alexis Tsipras' visit to the French capital includes meetings and partnerships with leading French companies namely L'ORÉAL, IBM, HSBC France, AIRBUS, BlackRock, EMIRATES, NESTLÉ, SUEZ, KIA MOTORS FRANCE, PHILIP MORRIS France SAS, EDF, SOCIÉTÉ GÉNÉRALE, MORGAN STANLEY and others.
Paris and Washington, the last two major stops of Alexis Tsipras, emphatically point to the way out of the crisis that has dramatically changed the lives of Greeks in the past eight years. However, although most of the reforms have been implemented as required by the creditors, still the necessary compliance with the cumbersome, obsessive, bureaucratic mechanism, is causing several problems.
The West keeps betting on Alexis Tsipras since he is the only reliable interlocutor. Main opposition ND Leader, Kyriakos Mitsotakis constantly makes the wrong political choices that drive him away from the orbit of power. The center-left is shrinking and a revival of the formerly powerful PASOK seems impossible. It is no coincidence that the Washington Post, although devoted only a few lines to Alexis Tsipras' visit to the U.S., has an extensive report on the 5th Trilateral Summit between Greece, Cyprus and Egypt in which the Greek Prime Minister participated.
After all, both the participation of Italy in the above mentioned (next) Trilateral Summit and the precipitated visit of the Turkish President Recep Tayyip Erdogan to Athens in order to discuss the economic co-operation among the two sides, are of significance.
The multidimensional and proactive foreign policy of the Greek government seems to be accepted and paves the way to the exit from the crisis and certifies Greece as a country that works as a pillar of stability and security in the region. Greece may not be the predominant player in the region's geopolitical scene, but it is an important link…/IBNA
Photo: PM Press Office-Andrea Bonetti