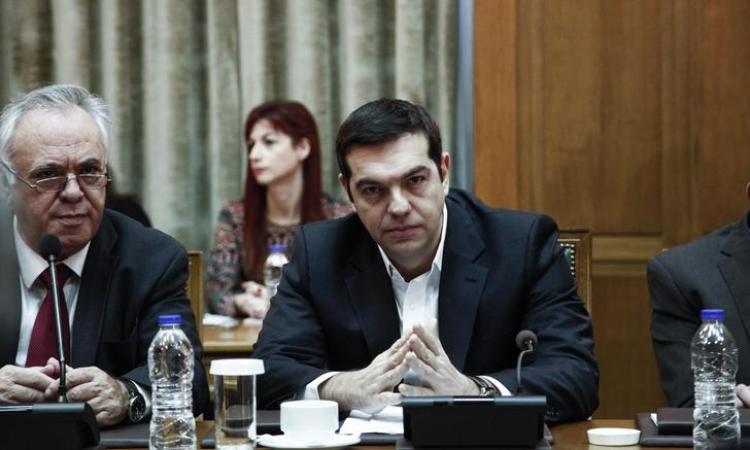 Athens, May 10, 2016/Independent Balkan News Agency
By Zacharias Petrou
Prime Minister Alexis Tsipras addressed an emergency cabinet meeting in order to brief ministers of the developments in Monday night's Eurogroup meeting.
Tsipras told cabinet members that the commitments to debt relief made by Eurozone Finance ministers show that Greece is no longer isolated. He also pledged that the current bailout review will be concluded without the need for extra austerity measures.
The Greek PM stated characteristically that "Greece is not alone and isolated. It enjoys the support of political forces and governments which have finally realized that this country and its people have the right to turn a page".
As expected, Tsipras was evidently pleased with the talks on Greek debt relief.  "For the first time we have a road map for the relief of public debt", he said.
The premier also defended the mechanism that would automatically trigger across-the-board cuts in the event of finances veering off course.  He said the automatic mechanism is not a 4th MoU and that it won't even be necessary because the adjustment program is working and the economy is on course to achieve all fiscal targets set.
Despite criticism by opposition parties that he is celebrating his failure and the government's concessions on all fronts that lead to tough measures, Tsipras said that the bailout program review is being concluded without the legislation of preventive measures being demanded.
"This is the result of the serious efforts and methodical work of our government" Tsipras jubilantly stated adding that his administration fought hard in the negotiations proving that Greece can succeed without having to constantly make concessions.
From now, according to the Prime Minister, his coalition government's attention turns to growth, creating jobs and implementing the deep reforms the country and the people need.