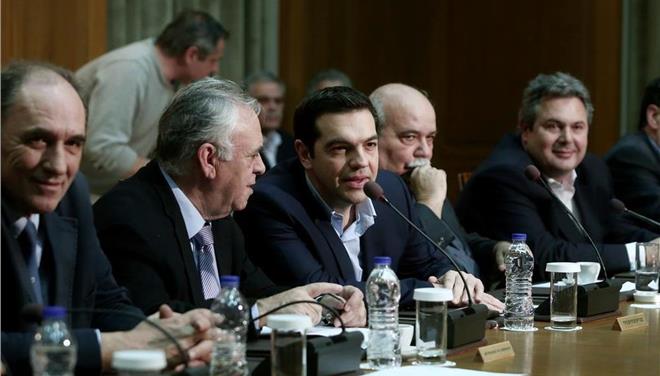 Athens, June 2, 2016/Independent Balkan News Agency
By Zacharias Petrou
Greek Prime Minister Alexis Tsipras addressed ministers during a cabinet meeting on Thursday in which he outlined the next policy initiatives of his government, the priorities for the immediate future and achievements made so far.
His speech was broadcast live on public television and was delayed in order to succeed an expected decision by the European Central Bank to welcome Greece back into the fold of fully-fledged eurozone borrowers, which never came.
ECB president Mario Draghi told a news conference shortly before Tsipras's speech that Greek banks will be able to participate again in the regular refinancing operations "once the prior actions will be implemented", postponing decisions for the next ECB governing council meeting. Any reinstatement "will require another policy meeting," he added.
Nevertheless, Alexis Tsipras found cause for optimism, charging that immediately after the Greek bailout review conclusion the ECB will reinstate the waiver for Greek bonds in July, thus providing valuable liquidity. The PM added that "Grexit" has been put to rest once and for all and the road is open for a return to bond markets while the country will also benefit from debt relief as the 24 May Eurogroup agreement stipulates.
Tsipras told ministers that the main ingredient of government work from now is to pay attention to the every-day lives of citizens, of the "social majority" of the country, to distribute wealth fairly and protect salaries.
EWG
The Euro Working Group , probably on Monday 6 June is expected to convene via teleconference to approve the conclusion of the Greek bailout review.
Government sources said they expect a loan disbursement, worth EUR 7.5 billion, will come in two to three weeks.
The government tabled a series of amendments in Parliament earlier this week, fulfilling the latest demands by creditors, mostly issues left over and improvements requested by creditors during ongoing talks in the context of the first review of the Greek program.