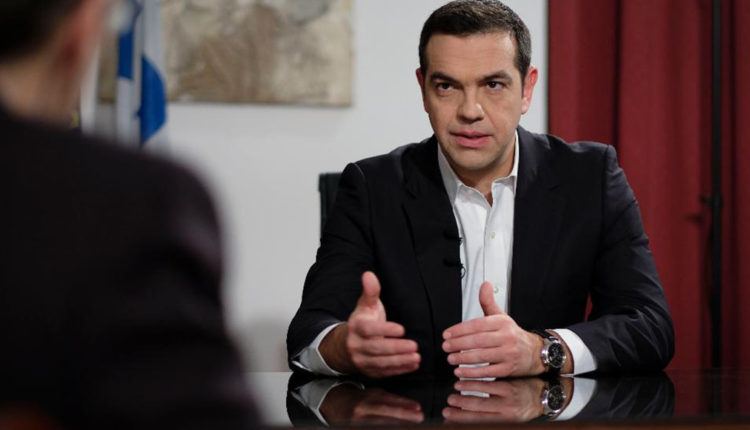 Greek Prime Minister Alexis Tsipras, in an interview with the Sunday edition of the daily "Ethnos", adopted a clear position on the name of fYROMacedonia, saying that "if there is an opportunity for a solution, it will be national foolishness not to use it".
The Greek Prime Minister assures that he respects "the concerns and especially the sensitive strings of his compatriots in northern Greece. Besides, I myself am half Macedonian", he recalls and continues:
"However, what I urge them is to appreciate soberly what promotes the national interest and what undermines it. A non-solution undermines it. For 25 years, the neighbours have been recognized by the name "Republic of Macedonia" by many countries, and we are fighting everywhere for everyone to call them fYROM. That is, a compsite name, which includes the term 'Macedonia', but without any definition that prevents appropriation of geography and history. So if there is a chance of a solution that will reverse these negative situation that was loaded on to us in 1992, then it would be a national foolishness not to use it".
And the Prime Minister does on: "A Macedonian nation never existed in ancient times, as there was not a nation of Athenians or Spartans. Ancient Macedonia was a powerful force of the ancient Greek world that expanded, especially at the time of Alexander the Great, much wider than the present geographical area of ​​Macedonia. From the 7th century onwards, in this place, Slavs, Bulgarians, Serbs, Jews, Ottomans were successively settled in addition to the Greeks. Today, this wider geographical area is occupied by three different states. In this sense, it is absolutely unrealistic and absurd for some to ask for the exclusivity of Macedonia, and what's more, in the sense of ethnic identification. It is not unreasonable, however, to include the term 'Macedonia' in a composite name, either with a geographic or temporal specification, for every use, so that it is absolutely clear that no one claims territory or the history of other peoples".
Kammenos will not become Samaras
Regarding the distinct attitude of the government partner, Tsipras acknowledges that "Panos (Kammenos) is aware of the problem and is an honest and patriotic politician. He has reservations and has expressed them to the governing council, but he has stated in all tones his confidence in the efforts of the Foreign Minister and his desire to have a broad consensus of the political forces on this issue, provided of course a satisfactory agreement is reached", adding that "governments fall if they lose a vote of confidence. Let some not be fooled. Kammenos is an honest man, he will not become Samaras".
Tsipras condemns the attitude of the ND president, stating inter alia that: "Mr. Mitsotakis is committing a tragic political error. In the nomenclature it has an opportunity to show an attitude of national responsibility. (…) He does not dare to be straightforward with ND's stance. (…) First he distances himself from the rallies and then he writes off those who prevent his MPs from participating. This proves to the Greeks that he is capable of serving any viewpoint, provided he has a vote-gaining benefit, and to Europeans that he is an unreliable politician, a classic spokesman for the old political staff that bankrupted the country"./IBNA