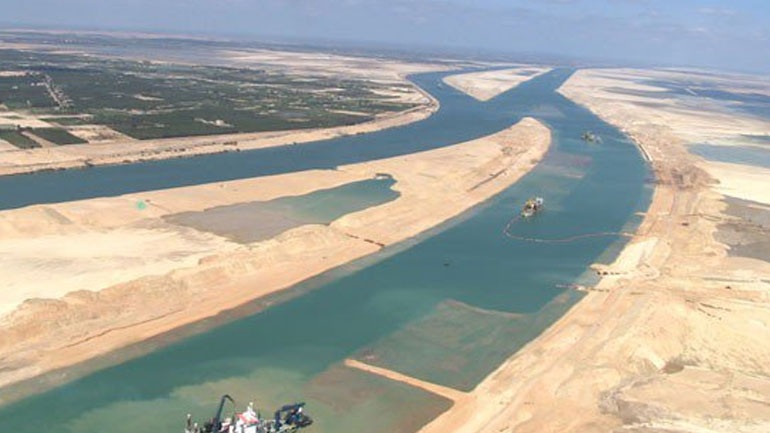 Athens, August 6, 2015/ Independent Balkan News Agency
By Spiros Sideris
Greek Prime Minister Alexis Tsipras attended the inauguration of the new Suez Canal, at the invitation of Egyptian President General Abdel Fattah al-Sisi during the tripartite meeting of Greece Cyprus Egypt in Nicosia, last April.
The new Canal has a length of 45 nautical miles (83 km) and will flow along a big part of the already existing Canal, allowing more vessels to use it daily.
The Canal, which allows ships to travel from Europe to Asia and vice versa avoiding many days of sailing around Africa, has a total length of 101 nautical miles (187 km) and sees extremely high traffic: 17,225 vessels of every type crossed in 2012.
The new Canal near the Mediterranean coast, cost about three billion euros, and the sum of this money according to the government, "came only from concerned Egyptian consortia, companies or individuals".
The project, which was implemented within a year, will increase the number of vessels sailing daily from 49 to 97 on average.
Revenues from the Suez Canal, which averaged approximately to EUR 3.8 billion annually, is an important source of foreign currency for the Egyptian economy, which has been damaged by the three-year political instability, with adverse affects on the tourism industry.
The Suez Canal apart from economic also has a huge symbolic value. It was constructed 145 years ago (1869) by French engineers, remained under colonial control of the once Great Britain until 1956, when the then president of Egypt, Gamal Abdel Nasser nationalised it, an act that still is a source of national pride for the Egyptians.
Around the canal is to develop a special economic zone, which will include several ports to act as industrial platforms, making Egypt one of the important players in the global economy.
On the sidelines of the inauguration, Alexis Tsipras met with French President Francois Hollande, Russian Prime Minister Dmitry Medvedev and Egyptian President Sisi.