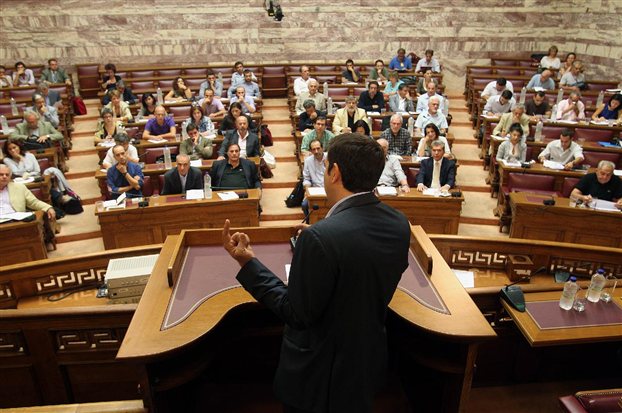 Athens, February 26, 2015/ Independent Balkan News Agency
By Spiros Sideris
To clarify their position regarding the content of the Greek government's agreement with the eurogroup Greek Prime Minister Alexis Tsipras reportedly asked at the meeting of the Parliamentary Group of SYRIZA held late on Wednesday afternoon. "I want to know if you agree or disagree with the agreement. If anyone would vote against I want to say it here", said the Prime Minister.
However, according to information, from members of the left-wing were in favour of not bringing the extension of the loan agreement and the Varoufakis text to a vote in the House, on the grounds that this would commit the MPs.
Early in the meeting spoke the Minister of Productive Reconstruction Panagiotis Lafazanis, who reportedly said that all will be judged by the way they exercise power, indirectly setting some limits, saying that the agreement is a reality and the question is what will take place in the next four months.
According to reports, Lafazanis expressed his dissatisfaction for the lack of preparation for the whole process. "There was no discussion in the cabinet for the handling before going to the negotiations. There are points in the letter do not resemble our own language, but that of the lenders'", Lafazanis reportedly said.
Immediately after spoke the State Minister Nikos Pappas, who noted, according to information that the government's diplomacy bore fruit in the summit and at the Eurogroup and added that the partners also do not want a crisis. "Our agreement gives every opportunity to implement our program and for this we need self determination and a united front. A rupture is not a means to an end in itself for the government. What comes first is the best deal for Greece and its people", Pappas said.
Reportedly, the spirit that dominated in the comments of the MPs (almost the entire PG spoke) was that there has been a compromise, the stability of which will be judged by the government's work and responsiveness to citizens' expectations. "We have negotiated, now we must govern", was one of the phrases heard.
Among the comments that stood out was that of Maria Kanellopoulou, who said: "a nice tweet is going around. Eight out of 10 support SYRIZA. The other two are Leftists".
Efklidis Tsakalotos noted that up to now we have managed to stabilise the situation and added that from now on "we will be judged on our efficiency in governance and this is what will strengthen our negotiating power for the next time".