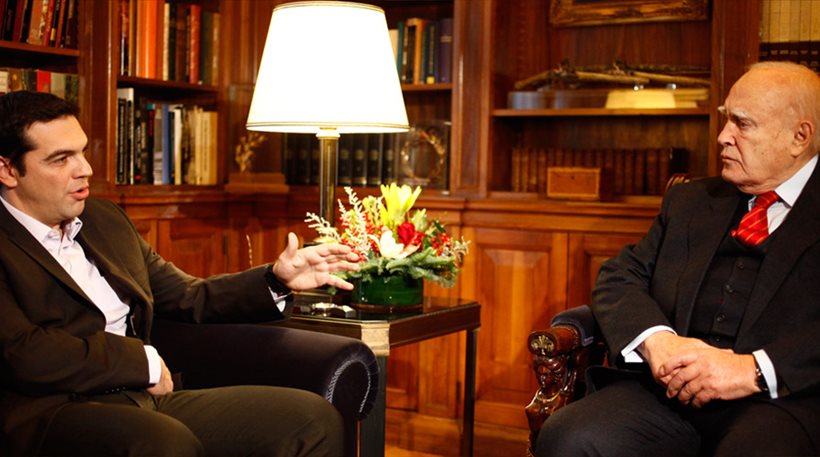 By Spiros Sideris – Athens
The convening of the council of political leaders to agree on the date the country will resort to the polls, in conjunction with the investigation of a possible agreement between the parties on the face of the new President, so that he will be elected by a large majority, asked main opposition leader Alexis Tsipras from Greek president Karolos Papoulias.
Meanwhile, Tsipras said the council's political leaders will explore the possibility of an agreement on the face of a new President, who shall be elected by a large majority from the new parliament.
Tsipras stressed that these two movements would be a message inside and outside the country that political forces may have different plans for the country, but also have the ability to consult.
In his statements after the meeting, Tsipras noted the need for a strong government with strong popular mandate, with a national negotiation plan.
The country needs stability, so that in a smooth and coordinated way to go in a democratic process, and the Greek people to decide calmly between two options: that of the continuation of the same policy or that of the negotiation, Tsipras said.
He added that the choice of the Prime minister to insist on the policy of austerity, while he does not have the 180 MPs for the election of a President of the Republic "is a choice of destabilisation", at a time when the country needs stability.
In the debate that preceded between the President of the Republic and the President of SYRIZA in front of the cameras, Papoulias asked from Tsipras a minimum consensus of the political forces in the country to address the domestic and international economic problems the country is faced with.
"Maybe I am influenced by my time in the Foreign Ministry, but the national issues are at a critical standpoint and the political forces must jointly tackle the problems. There must be at least a modicum of consensus. Everything else will follow. If there is a consensus, everything else can be discussed", the president said, adding that this view on the minimum political consensus expresses his personal opinion.
The president of SYRIZA Alexis Tsipras stated that he took the initiative to meet the President of the Republic, because things are at a critical crossroad for the country. "The options are critical, as even more difficult is the situation in society. We must send the message that the Republic is not a risk and we can have the basic understanding. To give the people the opportunity, in this critical standpoint the country is in, to choose the path they want to follow".