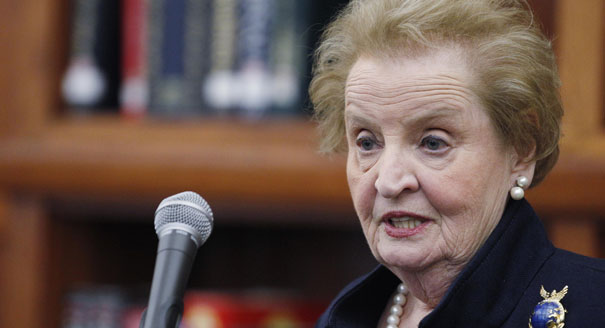 Pristina, March 5, 2014/Independent Balkan News Agency
By Elton Tota
Former US secretary of state, Madeleine Albright has commented on the situation in Crimea and the comparisons that have been made to Kosovo.
Asked if the USA is using double standards, given that they allowed Kosovo to separate from former Yugoslavia, while Crimea is not allowed to separate from Ukraine, former US secretary of state, Madeleine Albright said that such analogy cannot be made.
"Absolutely not. Kosovo's situation was entirely different to that in Crimea today. Slovenia, Croatia and Bosnia separated. What happened there was a result of domestic developments. Russia never understood what was happening in Kosovo and it constantly tried to block the aspiration of people who wanted independence", said Albright.
According to her, what's important is that Russians seem to "buy" something which in a way or another may cause major domestic problems to them, bearing in mind the different ethnic groups that live in Crimea, Dagestan or other regions.
Albright said that the president of Russia, Vladmir Puti has miscalculated the situation. "Putin has miscalculated the situation and we must point this out".
On Tuesday, Russian president, Vladimir Putin delivered a press conference, the first one since the Ukrainian  crisis. He considered what happened in Kiev as a coup d'etat and said that the new government is unlawful. The Russian president has compared the case of Crimea to Kosovo, by demanding the citizens of this region to be allowed to decide about their future. /ibna/