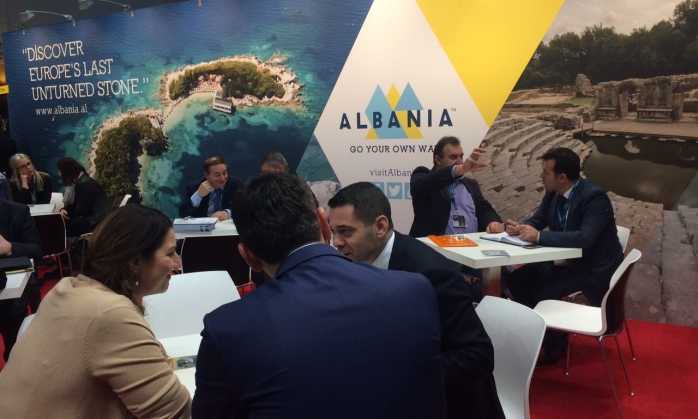 "Europe's last unturned stone"
Tirana, March 11, 2015/Independent Balkan News Agency
The International Tourism Fair ITB was held in the recent days in Berlin. This is the largest tourism fair in Europe and one of the largest ones in the world.
Albania was represented this time by 18 tourist operators or twice more than a year ago. Albania was also represented with an improved logo "Europe's last unturned stone".
Upon his return from the fair, the minister of Economy and Tourism, Arben Ahmetaj, talks about a decent presentation of our country in Berlin.
"The Tourism Fair in Berlin is one of the most prestigious ones in the world as far as this industry is concerned. We were presented in a decent way and with twice as many tourist operators than last year. The image has also improved and we believe that the interest that was shown was much greater".
Ahmetaj said that the government is expecting the number of tourists this season to go up: "We believe that the number of tourists this summer will see a double figure growth. But I'm convinced that we must do more about the image of Albania, in order to attract more tourists from countries such as Germany, Slovakia, Czech Republic, Italy, France or other countries which have a large number of tourists and a great potential for the Albanian market".
The Berlin Fair is a very important platform for the presentation of participating countries, their image and the promotion of tourist values, but it's also a good opportunity for tourist agencies from all around the world to exchange experiences and establish new ties of cooperation and for tourist operators to secure new contracts with counterparts from different countries.
This year, Albania is expecting to mark an important step in the sector of tourism, with the aim of increasing the number of tourists. Efforts will also be made to improve the quality of services and the expansion of the number of states that tourists come from.
Another objective of the Albanian government is to have all year tourism, by promoting different types of tourism, alongside the one on sea coast.
Albania offers many opportunities for mountain and sea tourism. It's known for its beautiful canyons and for its mountains that offer opportunities for skiing and climbing.
Several areas are also known for a clean climate.
But, in the past 25 years, no government has worked to turn these resources into economic benefits for the state and the citizens. Individual incentives are not enough. Moreover, the majority of them has a lack of professionalism and offer limited services. /ibna/