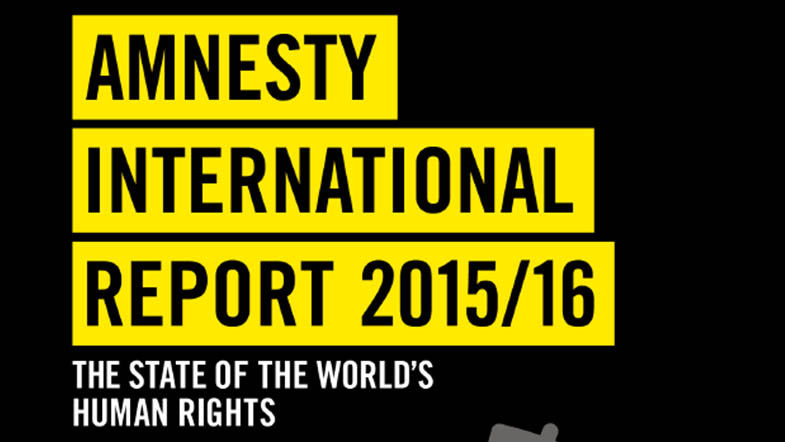 Tirana, 25 February 2016/Independent Balkan News Agency
By Edison Kurani
International human rights organization, Amnesty International has released its annual report on the situation of human rights in the world, where it analyses 160 countries, Albania being among them.
Among the main problems that AI identifies in Albania are the situation with the Roma and Egyptian community, especially in terms of accommodation; the serious economic situation that has obliged thousands of Albanians to leave to Western European countries and the inadequate protection of victims of domestic violence.
Amnesty International expresses its concern about the destruction in July of the homes of many Roma families, as they were identified to be illegal constructions and authorities had not allowed the legalization of these homes according to the 2014 law.
Violence against women, a topic which is often raised in international reports on the state of human rights in Albania, is also included in this year's Amnesty International report.
The organization says that in spite of the numerous requests that women submit to authorities for protection from domestic violence, only a small percentage of these requests have been approved, as victims withdraw their charges as a result of the pressure from the relatives.
Impunity remains a problem, notes Amnesty International in its report, by mentioning the case with former Police Commissioner, Hysni Burgaj and his deputy, Agron Kulicaj, who did not obey to the arrest warrants issued against the members of the National Guard accused of the murder of four protesters in January 2011.
Among other problems in Albania, the report also points out the difficult economic situation which has forced thousands of people last year to seek asylum in Western Europe.
The main points of the Report-Albania 2015/2016
Roma and Egyptian communities were denied adequate housing and subjected to forced evictions. Thousands of Albanians, driven by poverty, sought asylum in the EU. Protection against domestic violence remained inadequate.
***
The European Commission in November required Albania to protect fundamental rights, reform the judiciary and combat corruption and organized crime before talks on EU membership could commence. In June, a parliamentary committee reported widespread corruption among police, prosecutors and the judiciary. In December around 50,000 people joined opposition-led protests against government corruption and rising poverty.
A law introduced in May enabled the subjects of surveillance by the communist-era state security service (Sigurimi) to access their files.
Enforced disappearances
The authorities made no progress in bringing to justice those responsible for the enforced disappearance in 1995 of Remzi Hoxha, an ethnic Albanian from Macedonia, or in establishing the whereabouts of his remains. Former state security agent Ilir Kumbaro, convicted in 2012 for the torture and subsequent death of Remzi Hoxha, remained at large after absconding from an extradition hearing in the UK.
In March, an Office of Missing Persons was established to locate the remains of Albanians forcibly disappeared under the communist government between 1944 and 1991.
Freedoms of expression and assembly
Media independence was compromised by self-censorship, government pressure on media outlets and threats against journalists. Journalist Aurora Koromani received police protection in June after receiving threats believed to originate from the armed group Islamic State (IS), following her investigations into IS recruitment in Albania. Several other journalists sought asylum in the EU and Norway on the basis that the authorities were unable to protect them.
Civil society activist Nderim Lushi was convicted in December of organizing an illegal assembly and inciting violence "against the constitutional order" after a peaceful demonstration in May in Kukës which called on the government to cancel electricity debts and encouraged citizens not to leave Albania. Police had used excessive force against demonstrators.
Violence against women and girls
State police reported 1,696 cases of family violence in the first six months of the year, giving rise to 993 requests for civil protection orders. Of 406 requests submitted to courts in the capital Tirana between January and August, only 118 were granted, with 251 applicants withdrawing their application, or not attending court due to pressure from their abusers or family members. In Tirana between January and June, defendants were convicted of family violence in 185 out of 190 prosecutions; most had pleaded guilty.
Housing rights
Many Roma and Egyptians, as well as young people leaving social care, failed to meet the income threshold required to access social housing. Many Roma were unable to regularize their homes under the 2014 law on the legalization of property, which allowed "illegal constructions" to be demolished. In July, 70 mainly Romani families' houses were demolished in Selita, Tirana, during a forced eviction in advance of road construction.
Impunity
In June the prosecutor found that the failure of former State Police director Hysni Burgaj and his deputy Agron Kuliçaj to execute arrest warrants for members of the Republic Guard, who were alleged to have shot and killed four protesters in an anti-government demonstration in January 2011, was not a criminal offence. Despite convictions for the deaths of three protesters, impunity persisted in the case of the fourth, Aleks Nika.
Torture and other ill-treatment
Ill-treatment of suspects in police stations was widespread; police and medical staff failed in their duty to report such incidents.
In July, the Ombudsperson reported on chronic overcrowding and inadequate conditions and health care in places of detention.
Refugees and asylum-seekers
Albania remained a transit country for migrants and refugees. Thousands of Albanians applied for asylum in EU countries, including 54,762 in Germany, which rejected 99% of their claims; thousands were deported back to Albania from Germany and Sweden./ibna/