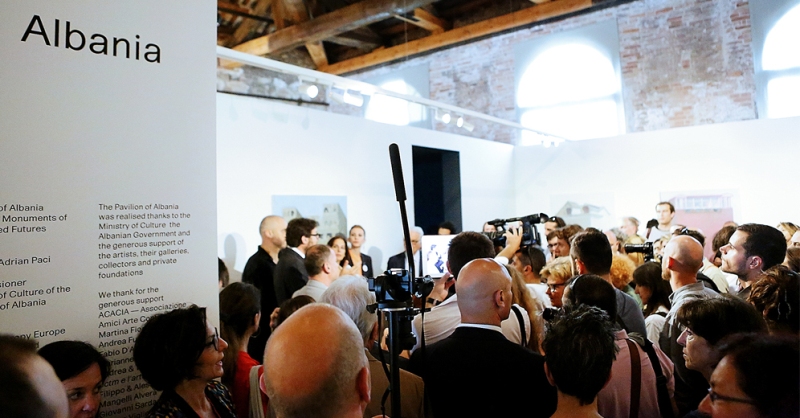 Tirana, June 9, 2014/Independent Balkan News Agency
Albania's pavilion in the Venice Biennale has given way to moments of pride for Albanian authorities that visited it this weekend in Italy.
Prime minister Edi Rama stayed long in the pavilion of Albania in Arsenale. This is a pavilion dedicated to architecture and it's called ""Potential Monuments of Unrealized Futures". This saw the presentation of the works of two Albanian artists, "Penthouse", a series of paints by Edi Hila and "The Column", a video/installation by Adrian Paci.
The prime minister considered Albania's presence in the Biennale as the presentation of another Albania, that of culture and art.
"For us, me as a prime minister of a country, which is seen as a country that generates anxiety, is a very important battle, on one hand, to invest more in culture and on the other,  to present this other side of the country, which comes in a radiant and attractive form, represented by truly great artists, not only of visual art, but also music and other spheres of creativity", said Rama.
Albania's pavilion curator, Jonida Turani says that this presentation is only the start for other collaborations. "This project doesn't end here, but it acts as a starting point for a debate which can continue especially in Albania, because this is also our scope", says Turani.
Minister of Culture, Mirela Kumbaro also expresses her pride for the success of Albanian artists and the decent presentation of Albania's pavilion.
"Albania speaks the same language  as all other countries here at the Venice Biennale, to convey its dynamic, where the energy of young people lives with the depth of not a very simple history such as ours, but with the insatiable desire for rebirth and creativity. This is the dynamic that transforms our country every day in a crucial moment with its European aspiration. Today, Albania talks through art and the potential of two artists, Edi Hila and Adrian Paci", says Kumbaro.
Albania's pavilion and the presentation of the two artists, Hila and Paci were praised by the Italian curator, Stefano Rabolli Pansera.
"Albania's most extraordinary thing is that at any time, it has left strong traces, which have never been completed. Artists show how this situation, which for many Europeans may seem a disadvantage, is a possibility to offer potential, as the main instrument to imagine architecture in the 21st century", says Pansera.
Albania's pavilion was curated by Beyond Entropy Europe, winner of the Golden Lion in the Art Biennale last year in Venice. /ibna/