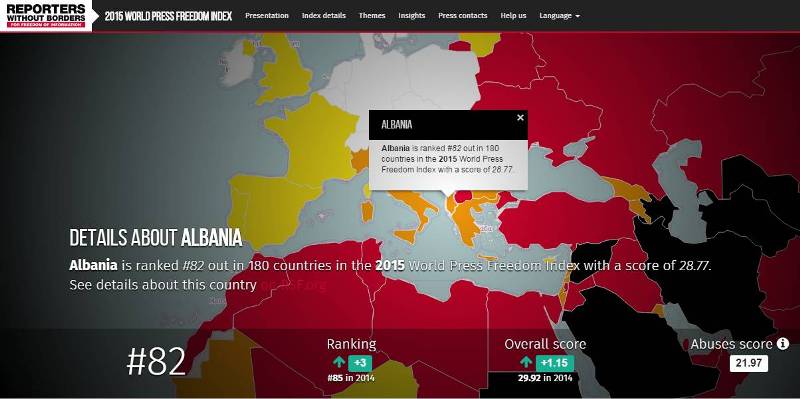 Tirana, February 12, 2015/Independent Balkan News Agency
Reporters without Borders says that freedom of media has seen "a drastic fall" in the world last year, partially due to extremist groups such as Islamic State and Boko Haram.
The annual report of the organization "2015 Freedom of Media in the World Index" says that in 2014, there have been 3,700 violations of the freedom of information in 180 countries of the world, or 8% more than in 2013.
According to the report, Albania has ranked 82nd, thus marking an improvement by three places compared to the previous year (see the image).
The worst positioned countries in the region are FYR Macedonia which ranks 117th and Montenegro which ranks 114th. Kosovo ranks 87th or 7 places down from last year. Meanwhile Bosnia ranks 66th and Serbia one position lower.
The organization says that the highest score in terms of the freedom of media  belongs Nordic countries such as Finland, Norway, Denmark, Holland, Sweden and the worst performers are Turkmenistan, North Korea and Eritrea. USA ranks 49th losing three positions.
Reporters without Borders have said that all sides involved in the conflicts in Middle East and Ukraine have conducted "a terrible war of information", where journalists have been targets of murder, kidnaps or propaganda.
According to the report, Iran, China, Syria and North Korea are among the countries with the worst freedom of media.
The three countries with the highest score in terms of the freedom of media are Finland, Norway and Denmark, while at the end of the list are Turkmenistan, North Korea and Eritrea. /ibna/