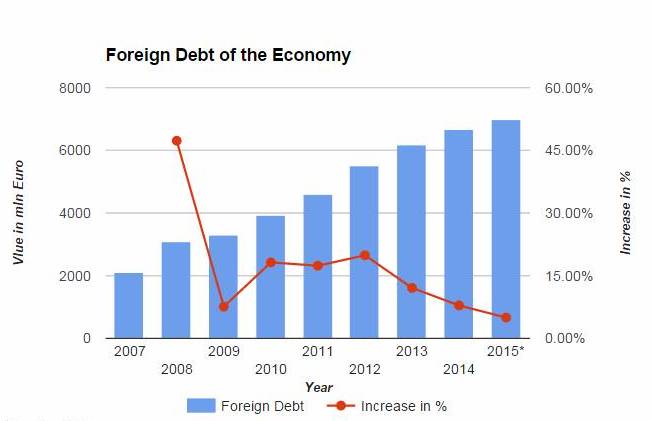 Tirana, 28 August 2015/Independent Balkan News Agency
At the end of the first quarter of 2015, the value of Albania's gross foreign debt was 6 billion and 997,4 million euros. During this quarter, debt went up by 331 million euros.
Gross foreign debt represents all the foreign debt that an economy has. It includes the debt of public and private sector to non residents and which is in foreign currency.
Compared to the end of the first quarter of 2014, debt in the first quarter of 2015 went up by 757 million euros.
Around 81% of the debt is long term debt, mainly in the form of loans, while the rest is short term debt, mainly borrowed from the bank sector.
Aranita Brahaj, head of Open Data Albania has analyzed the progress of gross foreign debt from 2007 until 2015 and the dynamic of this debt in the past year.
She says that the government sector debt occupies the main part of foreign debt with around 41% of the general value. The other part is distributed among banks (18%), other sectors (17%) monetary authority (1%) and loans between companies (23%).
When the growth of foreign debt is higher than Gross Domestic Product (GDP) or investments of a country, than this could cause serious problems for an economy.
This problem escalates in circumstances when interests on loans are increasing significantly.
In the recent years, GDP has increased with around 2-3%, while foreign debt has gone up on average by 19% every year. /ibna/