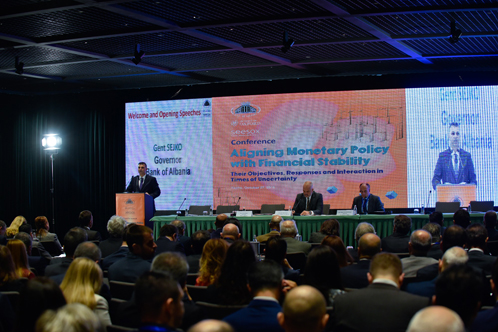 Next year, the Albanian government is expecting economic growth to amount to 4%, thus marking the biggest growth in the past ten years.
Prime Minister Edi Rama says that this figure is not satisfying either: "Based on all predictions and based on all estimates, next year, economic growth will be 4%. However, this is still an inadequate figure to cope with our needs", said Mr. Rama in a conference organized by the Bank of Albania and Center for Studies for Southeastern Europe at Oxford University.
Rama says that economic progressive growth comes after a critical moment in 2013 and adds that today, three years later, recovery is happening in every domain and Albania is moving forward toward a new economic model.
"During these years, the government policies and the policies of the Bank of Albania have been in harmony, emerging from a state of near collapse that threatened the Albanian economy in 2013. After three years of recovery in all domains, the finances of the Albanian state have been consolidated, public debt is dropping, while revenues have grown. The Albanian economy grew by 3,2% in the second quarter, while next year, based on all estimates, we will touch a level of 4%".
However, the Prime Minister worries about foreign threats. He admits that "the regional climate and the global climate are fragile and raise many question marks", and he says that "to face any threat of any potential crisis, we are determined to boost cooperation with local and international stakeholders and above all, enterprise and current and potential investors". /balkaneu.com/