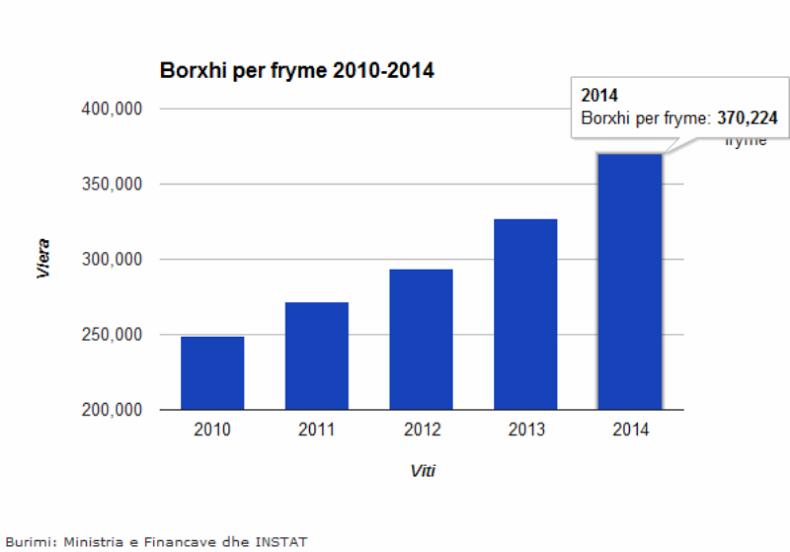 Tirana, March 26, 2014/Independent Balkan News Agency
Open Data Albania has analyzed the changes in this indicator from 2010 to 2014. Aranita Brahaj, directress of Open Data Albania (ODA) told IBNA that debt has increased from one year to another (see chart).
"The biggest increases have been in the past two years: in 2013 and forecast for 2014. For 2013, debt per capita amounts to 326.999 ALL or 11.6% higher than in 2012.
In 2014, this debt is expected to reach a value of 370.224 ALL, which is 13.22% higher than a year ago or 43.226 ALL adding to Albania's 2013 debt per capita.
This means that in 2014, an average family of 4 members has had its debt increased by 172.904 ALL in order to reach a level of 1 480 896 ALL.
Unstoppable growth of debt
Debt per capita is calculated by dividing the total amount of unpaid debt in a particular year with the population registered on that year. In other words, it shows on average "how much of the public debt" each one of us "has to pay".
Changes in debt per capita are affected by the debt and population. Experts say that the increase of debt is the dominating factor that explains the increase of debt per capita from one year to another.
Nevertheless, the contraction of population has also led to an increase of debt per capita, but its impact has been much smaller than the increase of debt.
Total debt for 2014 has increased by around 120,4 billion ALL compared to 2013, while in 2012-2013 the increase of debt was 83,7 billion ALL.
Besides borrowing to support the budget, this year, the payment of arrears amounting to 35 billion ALL has also had an impact in the debt increase. This amount will be used to pay outstanding debts in the sector of infrastructure. /ibna/