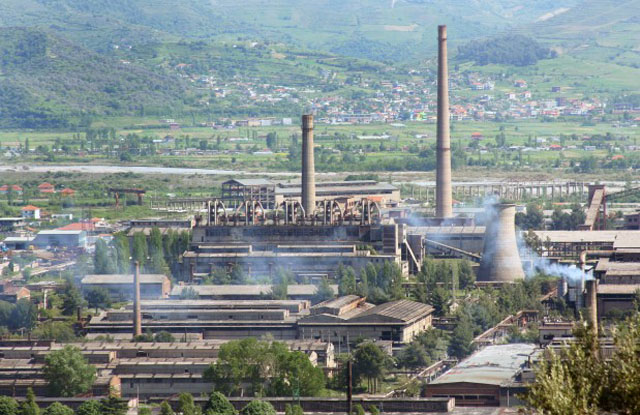 Tirana, 19 May 2016/Independent Balkan News Agency
By Edison Kurani
When communist Albania flirted at times with China, at times with the Soviet Union and then with Germany, the country used to take pride by claiming that it had turned into a heavy industry super power in the Balkans.
Plants which emitted poison in the air used to be built in large cities and this used to have consequences which people are suffering even today.
The Metallurgic Plant, the Steel Production Plant, the Nickel-Cobalt Plant, the Nitrogen Wastes Plant in Fier and several others were the pride of the Albanian state.
Today they have turned into ruins. After they were exploited a little more by the private sector, they no longer serve any purpose now.
Under these circumstances, the Albanian government has given up. It has decided to demolish them in order to obliterate them, thus vanishing another absurd success story of communist Albania, which strived to be triumphant by developing the heavy industry.
In the last meeting, the Council of Ministers accepted the proposal of the minister of Economic Development, Tourism, Trade and Enterprise and of the ministry of Energy and Industry. The government decided to demolish the economic and administrative facilities of several enterprises and companies. Among them, these giants built during the time of the communist regime in Albania.
According to this decision, the Metallurgic Plant of Elbasan, the Nitrogen Wastes Plant in Fier, etc, will be demolished through explosions. The government has also decided to demolish the economic and administrative facilities of OST (Transmission System Operator), Energy Plant and other enterprises which are being closed.
Once this is done, a large area of land will be freed and according to experts, these lands have a strategic location for business and residential facilities. It is not yet known what areas will be freed by demolishing these facilities of the Albanian heavy industry.
Experts say that the construction of these heavy industry plants in Albania was a mistake and its consequences will be long suffered by Albanians. The reason for this is that this country doesn't need such a high volume of heavy industry products. The technology used has been and remains dangerous for the lives of the people. The release of poisons has led to many people to be affected by tumors which have deadly consequences.
A doctor in the hospital of Elbasan told IBNA's journalist that those who have been affected by cancer are many due to the fatal pollution caused by the Metallurgic Plant throughout the years. The worst part of this story, he says, is that the consequences are not acute, but they emerge on a later period and this has led to an increase of people with tumors after the '90s or 2-3 decades after the construction of these industrial plants. /balkaneu.com/