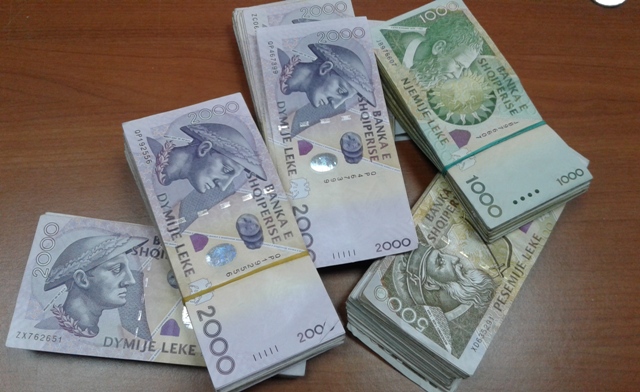 Tirana, 1 August 2016/Independent Balkan News Agency
By Edison Kurani
Albanians have significantly lost interest on keeping their money in bank deposits, therefore last year alone, they have withdrawn more than 250 million euros, statistics of the Bank of Albania show.
They have realized that if one wants to place savings in a bank, especially small amounts of up to 25 thousand euros, the only advantage is that they're safe there.
The annual interest of savings has reached today an all time low of 1,25%. The maximum interest that a bank may offer today is around 3% and for this, the period of the deposit is 5 years.
Up until a few years ago, interest rates on annual deposits ranged between 5 to 8%, but they saw a constant drop reaching a minimum figure.
An observation carried out among banks shows that one year deposits-the most preferred alternative among savers now-are often not renewed once their maturity period expires.
BoA statistics show that individual deposits in ALL have seen a falling trend for months now.
In June 2016, interest rates on deposits saw another fall. For 1 year deposits, the average interest rate was 0,73% in June as opposed to 0,84% during the previous month. In June of a year ago, the average interest rate was 1,45%.
This drop of earnings from deposits has come as a result of the fact that BoA has followed a facilitating monetary policy, by cutting base interest rate, which acts as a reference in the banking market, 15 times.
If in September 2011, interest rate was 5,25%, currently this rate is at 1,25%.
Many people say that other investment opportunities have been created for them. Some lend their money to private companies in return of high interests, to businessmen and people who deal in money trading. One of them told IBNA that he's been selling and buying lek and euros for the past two months. The scheme that he uses is classic. He collects small amounts of money, around 10 thousand euros and lends them. Interest rate is almost fixed among all these money traders, 10% a month.
Thus, for an amount of one thousand euros, an individual or a company must pay back 1100 euros to the lender. This money is often lent without a security. The person or the business that asks for this money leaves as a sort of guarantee a property that it owns, mainly cars. These money traders make sure that the value of the property is twice as higher as the amount that they have lent.
The 33 year old trader that spoke to IBNA said that people who borrow money on high interest rates are often unable to pay back, therefore the property that they have left as a guarantee, is kept. These are mainly cars which often go to the market of used cars. /balkaneu.com/