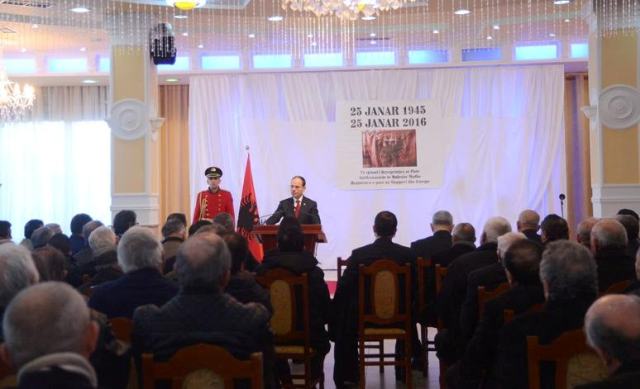 Tirana, 26 January 2016/Independent Balkan News Agency
President of Albania, Bujar Nishani launches serious accusations against the left wing government led by PM Edi Rama, saying that Albanians are being provoked by being promoted the symbols of communist dictatorship and by renationalizing properties.
Mr. Nishani used his participation in the commemoration of the 71th anniversary of the uprising of Malesi e Madhe, the first anti-communist uprising in Albania.
"Nobody would believe that in 2016, a law would come in the Albanian parliament to ask for a renationalization of the properties of Albanians", said Mr. Nishani, who has sent the bill at the Constitutional Court and refused to grant his presidential decree.
"Renationalization of properties cannot happen and will not happen, because Albanians gained the right of freedom with their blood, with their sacrifice, with their resistance and courage of hundreds and hundreds of their martyrs", he added.
Meanwhile he said: "I'm sorry to say that I have seen and noticed that unacceptable provocations are made in different reformation processes in the country".
Commenting the reform in the judiciary system, Mr. Nishani considers "the tendency of introducing an article in the Albanian Constitution by the so called 'experts of the judicial reform' which would prevent once and for all the investigation of the crimes of communism as unacceptable".
The president said that "up until a few years ago, nobody would even consider that a day would come when 25 years after that bloody regime had been overthrown once and for all, they would see an unimaginable courage to bring to the surface once again the most savage symbols of that dictatorship".
"A few years ago, nobody would even fathom that the most savage mechanisms of the application of the murderous platform against Albanians, could provoke Albania and Albanians again with tendencies to rehabilitate the ideology, the platform and the figures of that criminal period", he added.
Nishani said that the crimes of communism have not yet been investigated and have gone unpunished.
"The files of communism have gone uninvestigated and untried for 71 years".
Meanwhile, Nishani said that the lustration law and the law which opens the former secret service files, will never accomplish their true scope and mission without first investigating the crimes of communism.
"The investigation of the crimes of communism and the punishment of the crimes of the Secret Services is closely tied to the national security interests of Albanians. Therefore, we can never forget and we will never give up on seeking justice", Nishani said. /ibna/