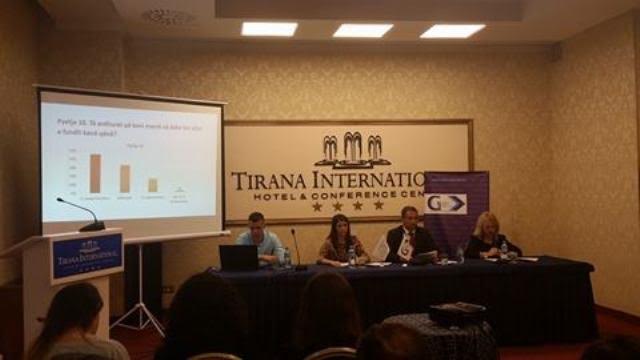 In Tirana, ACGG ("Albanian Center for Good Governance") has published the survey Albania's Social Political Barometer. The survey pointed out a significant amount of skepticism among public opinion toward institutions, political parties, reforms and the upcoming elections.
Arben Cejku, head of ACGG, partner institution of Konrad Adenauer Foundation (KAS) told IBNA that this is a serious and professional survey on the perception of the public in Albania on the social-political situation and the level of trust on institutions and politics.
The majority of respondents said that they have no faith on public institutions or political parties.
Most of them say that economy is in regress. They are not happy with the way the country is being governed and have very little hope on the improvement of the situation.
"The study pointed out a high level of mistrust of the citizens toward all institutions due to poverty, corruption, injustices and massive unemployment that they encounter on a daily basis", says Arben Cejku, head of ACGG.
ACGG's survey once again pointed out the economic and social crisis in the country, as half of the respondents claim that the incomes that they have received in the past three years are insufficient for them: Over 30% received minimum incomes and only 20% received sufficient incomes.
The total number of respondents in this study is 1951 people of all professions and of different levels of education.
Over 75% of respondents from all age groups, answered that politics does not care at all about their problems. According to them, the main problem relates to unemployment in urban areas and villages.
The cities where people are most disappointed by politics are Durres, Elbasan and Tirana.
Around 70% of respondents answer that their economic situation is worse than a year ago.
Only 10% say that they are better off and 20% say that they're the same as a year ago.
The survey discovers shocking figures in the trust of the citizens on institutions and policies.
Only 4% have faith on parliament and 96% don't. 12% of respondents have faith on the president. 10% have faith on the government and 9% on the opposition.
63% of respondents answered that they do not have faith on institutions. As far as public services are concerned, respondents are mostly unhappy with hospitals and the tax system.
Another serious majority believes that the next parliamentary elections will be rigged.
Over 60% of respondents say that the upcoming elections will be rigged and that parties base their choices based on their interests and not the interest of the citizens.
The authors of this survey believe that the high level of mistrust on the electoral process could lead to many voters not to participate in the coming elections.
As far as the judicial system is concerned, only 2 out of 100 Albanians believe in it. What's more, a large part of respondents do not believe that reform in justice will improve courts.
What stands out most about this survey is the lack of hope for the future which has affected a large number of Albanians. /balkaneu.com/