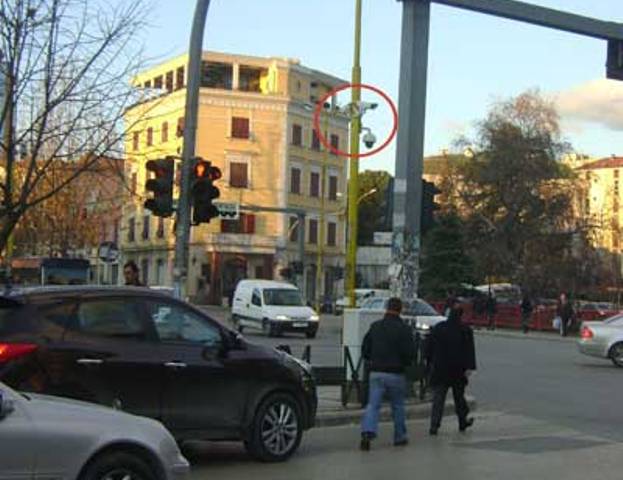 Tirana, 28 October 2015/Independent Balkan News Agency
By Edison Kurani
A bill drafted by the Ministry of Interior aims at installing CCTVs in a large part of the main cities of Albania, including streets, residential areas, businesses and other public and private places.
The scope is to reduce criminality as much as possible. But is it possible that nobody has thought of the privacy of people when drafting this bill which is expected to come into effect?
Mandatory camera surveillance for public institutions, open spaces and businesses
A list which includes the areas that will be monitored by cameras, shows that the majority of urban territories will be under control.
Based on the bill which will be passed in parliament, cameras will be installed in businesses that have an annual turnover of over 70 thousand euros, bars with over 50 customers, businesses operating during the night hours, kindergartens, children playgrounds, businesses that have been robbed before, casinos, schools and private kindergartens, public transport, residential homes (especially those that have water tanks), residents of apartment blocks, tenants and people with criminal records.
"Subjects that exert their activity in the domain of gambling, those which manage open or closed spaces for children, private schools or kindergartens and every activity of public transport which police considers as a source of added risk, will be legally obliged to comply with the provisions in power, as soon as this bill comes into effect", the bill states.
All footage caught on CCTV will be given to police anytime they ask them, but in compliance with the law on personal data.
As far as businesses are concerned, if no CCTVs are installed or if they are not working, then they will be fined 700 euros and will be stripped of the "Security Certificate".
Authorities: A higher level of safety is aimed
For the government, the new bill on public safety will guarantee more safety for the life of the citizens and their property.
Are less populated spaces at the mercy of fate?
According to the bill, all spaces that are largely populated, will be obliged to be equipped with CCTVs.
Meanwhile, the bill doesn't state anything about other less populated areas.
Tahiri: Do not fear CCTVs
Minister of Interior, Saimir Tahiri defends the new bill: I would like for added safety elements to be present in an apartment block where there may be elements of risk or people with criminal records. We would also want all night clubs to have added security elements for many reasons. We would also want that all businesses in Albania that work during the night hours, to be obliged into incorporating added security measures, such as CCTVs".
The minister says that the government considers the new measures as an obligation to the citizens: "We are obliged to offer guarantees to the Albanian citizens. First of all, we must let them know that in their apartment block there's a person with many criminal records living there or that in a particular area, there's sufficient information to believe that that there's an added risk of criminality and on the other hand, to take all the necessary measures. And some of these measures are necessary".
For Tahiri, this doesn't threaten the privacy of anybody, but "offers safety for everybody". "Do not fear CCTVs or elements of security. They are there to protect our communities, your families and everyone who should not be worried about security measures. We must worry when certain criminal elements enter and unjustly become part of our communities. In order to face this, we must all raise our awareness".
The sociologist sees an added risk
Sociologist Klementin Mile sees this fact as a concern. He says that this allows crime to move to those areas which are not controlled by CCTVs. For Mile, this is penalization to that part which is not protected by CCTVs. According to him, these measures are not enough to tackle crime.
On the other hand, Mile says that privacy with this kind of surveillance is at risk, as the new bill suggests a very wide coverage with CCTVs.
Citizens have different opinions
In a vox-pop that IBNA conducted a day ago with residents of Tirana, some say that the new CCTVs will protect them from culprits. Others believe that the government is working hard to take away their privacy. Some others are skeptic that such preventive measures will work, accusing the state of penalizing and grouping Albanians: Some are being protected through surveillance and others, who live in the suburbs are being left at the mercy of fate.
All of these dilemmas are not fully answered, because the scope of the bill is positive: It aims at reducing criminality which is currently very high! /ibna/
On the photos: Images from CCTVs installed by police in Tirana