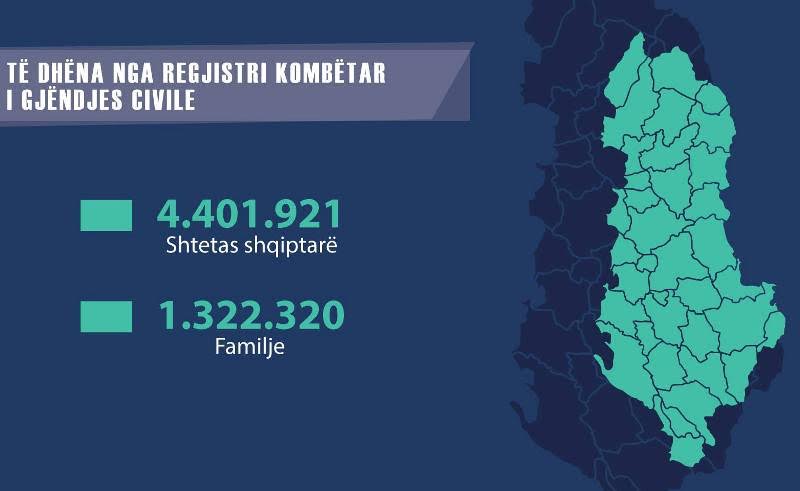 Tirana, 30 November 2015/Independent Balkan News Agency
By Edison Kurani
Up until now, it has been easy. One can live in a city and have a living address somewhere else, partially due to the bureaucratic procedures, partially due to the negligence of the people. This has been going on since 1991.
Now, the situation will be changing. Ministry of Interior has presented a project for an integrated register of addresses and citizens, in an effort to put an end to the chaos in the system of addresses which has lasted for so many years.
"How many are we and where are we?" These are questions that have been tormenting us for so many years and which will finally receive an answer, says minister of Interior, Saimir Tahiri.
"The failure to have such system because the national registrar of addresses has not been populated, because the two basic pillars for us today are not communicating with each other, has consequences today which may have a direct impact on the capacity of the institutions to offer services to the citizens, a direct impact on their life and a direct impact on the quality of services that the state can offer to the citizens", the minister says.
According to him, the project aims at turning the register of addresses and civil register into one unique register.
But is this plan an effort to adjust the chaotic situation or are there ulterior motives?
Sources from Albanian police told IBNA that one of the main objectives is to identify and hold people with criminal records under control. Many people who live do not live in the address that they have officially declared, but in another one, without notifying authorities. This leads to difficulties in finding and catching wanted people.
But "Tahiri" plan also has another scope. It aims tackling electoral manipulations.
Mr. Tahiri says that the lack of accurate addresses has been a source of electoral manipulation. "During all this time, many Albanian citizens have had a specific code, 999. They are people who appear in electoral lists, but their place of residence is not known. This threatens the principles of the electoral code, equality of vote for the citizens and has helped in manipulating elections, with citizens that exist only on the list, but not on the territory", Minister of Interior, Saimir Tahiri says.
In Albania today there are over 4,4 million registered citizens and over 1,3 million families, according to the official figures of the national civil register (photo). Meanwhile, the number of citizens currently living in Albania is estimated to be around 2,8 million. The last general elections at the end of June saw the participation of 1,6 million voters or 47% of Albanians entitled to vote.
But are there around four and a half million people living in Albania? Nobody believes this.
The fact is that in the past 25 years, Albanians have regularly migrated and very few have returned in the country.
Official figures indicate that 1 million Albanians live in Greece, that many in Italy and Germany altogether. There are also hundreds of thousands of others who have moved to other EU countries and also to the US and Canada. /ibna/