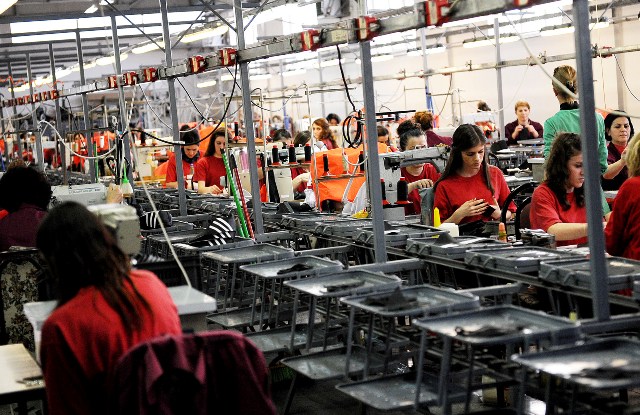 Tirana, 13 September 2016/Independent Balkan News Agency
By Edison Kurani
In Albania, people work a lot, but effectiveness is not very high. An estimation made by the Institute of Statistics shows that an employed Albanian does no less than 44 hours of work a week, mainly from Monday to Friday.
But INSTAT's report, which is based on a broad recent observation, also identifies another concerning fact. Long hours of work are not effective.
Comparison to other countries
With 44 hours working week, Albania is ranked among the countries with more working hours in the world and in Europe.
There are also other countries where many hours of work are done, according to recent data by OECD (Organization for Cooperation and Development). These countries are Turkey, Costa Rica and Mexico. Meanwhile, in the EU countries, the country with the longest working week is Greece with 42 hours.
Germany is one of the countries where people work less, with an average of 26 hours a week. Other countries such as Holland, Norway, Denmark and France also work around 27 to 28 hours a week.
The Labor Code is respected by neither the state, nor the business
The Labor Code in Albania provides no more than 40 hours a week, two days off a week, four weeks of holidays a year and two other weeks of official holidays during the year.
But many Albanians know that the Labor Code is not respected. There are many who work up to 16 hours a day. Some work even on Saturdays and in some cases, Sundays too. In both the public sector and the private sector, extra hours are not paid and employees do not get extra payments when working on holidays. Hard jobs and the night shift is not paid anything more either.
Many hours, low wages
In the EU countries and USA, working more hours means earning more. For Albania and other developing or undeveloped countries, it is quite the opposite: More hours are worked, less money is earned.
According to INSTAT's poll, the average hourly rate for a full time job in Albania is 2,2 euros.
Arben is 33 years old and he's been working in private businesses for several years. Up until a few months ago, he was a bartender in a bar in the area of former Bllok. He says that there, he used to get paid 50 thousand ALL a month (around 400 euros). It seems like a good salary, but it has negative aspects: "I started my shift in the afternoon and ended it in the early hours of the following day. I was doing 12 hours a day and if I take into account the fact that I worked 6 days a week, then my hourly rate was only 1,25 euros an hour", he says, shocked by the figures that he calculates.
However, Arben says that he had extra incomes, "otherwise, it would be pointless for me to stay": "I used to earn tips of up to 30 euros a day, otherwise, it would be impossible for me to live on my wage alone".
Low effectiveness
Competition Report 2015-2016 realized by the World Economic Forum ranks 120 countries of the world in terms of the efficiency of the labor market. This report ranks Albania 97th out of 120 countries of the world, with 3,97 points. Countries such as Hong Kong, Canada, Denmark are the ones which rank on top of this classification.
In Albania, experts say that long working hours not always justify the level of productivity. According to them, the capital's structure and qualified human resources act as the basis for comparison. The more trained and professional human resources are and the more advanced technology is, the more efficient is the labor market.
The explanations that experts give are simple. First, technology, which in the majority of businesses and state offices is miserable. Thus, an employee of the public service spends many hours drafting a document, due to the verification of the archives that he must make. Such work would be made in several minutes if there was a computerized and functional system.
There are similar cases in the private sector too. In a construction company, a worker spends more working hours on building walls, as he works without modern equipment and does a very tiresome job, in a profession which is not at all well paid. /balkaneu.com/