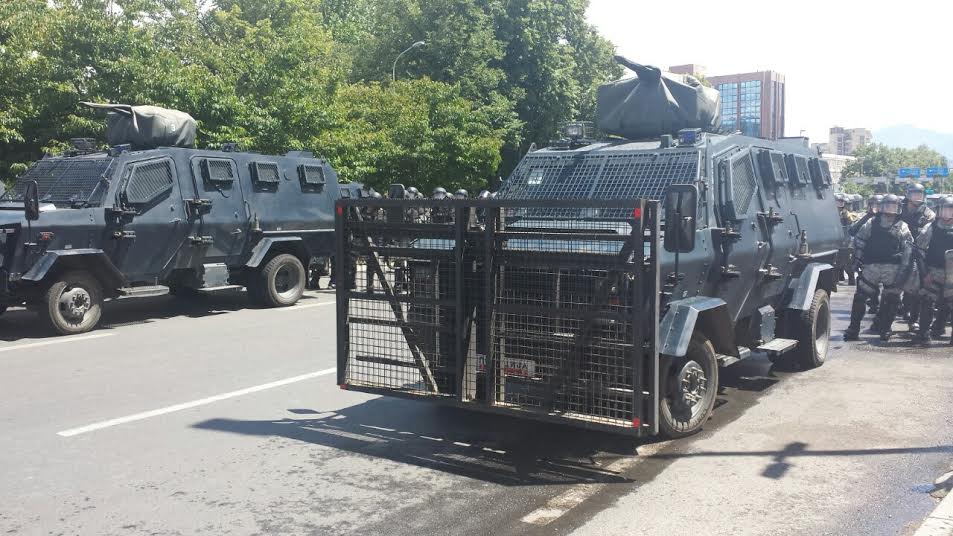 Skopje, July 11, 2014/Independent Balkan News Agency
By Naser Pajaziti
In Skopje, the protest held by ethnic Albanians under the slogan "stop discrimination and politically orchestrated trials against Albanians" ended a short while ago.
The protest started in the quarter of Cair in Skopje, an area predominantly lived by Albanians, to continue the march near the court. But, police didn't allow protesters to pass on the other side of the city.
The protest went without incidents and protesters stopped near "Mavrovasja" commercial center in the boulevard of Bit Pazar, where many police forces were stationed.
Police forces stopped protesters and didn't allow them to march them any further.
But, protests obeyed by avoiding incidents and a few minutes later, they launched slogans such as "Stop discrimination", "NLA", "We Want Freedom", "Jankulovska is a terrorist", "Stop to selective justice against Albanians" and "We want an Ethnic Albania". After this, the protest ended.
Present in this protest were also prominent personalities of different associations and organizations, but also the mayor of Struga, Ziadin Sela, the European boxing champion, Nuri Seferi, politician Hysni Shaqiri and other public personalities.
In several cases, protesters have attempted to break police cordon, but they were not allowed by organizers.
At the end of the protest, Daim Luci read a letter of protest on behalf of family members, where he demanded the immediate release of six Albanians sentenced to life imprisonment for the killing of five Macedonians in April 2012 in the suburb of Skopje. Protesters demanded the resignation of the minister of interior, Gordana Jankulovska and the prosecutor of the case, Gordana Gesovska.
Meanwhile, on the other side, the protest warned by Macedonain youngsters was cancelled. Young Macedonians had called a protest under the motto "Macedonia belongs to Macedonians". Extra police forces continue to be present in the capital Skopje. /ibna/