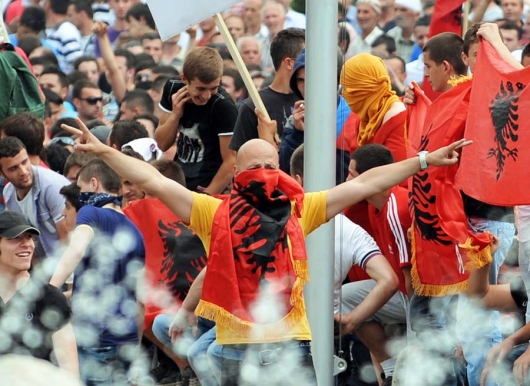 IBNA Special Report
Skopje, July 8, 2014/Independent Balkan News Agency
By Naser Pajaziti
Protests held by Albanians in FYR Macedonia do not only express discontent against the ruling of a court in Skopje which gave life sentences for six Albanians, accused of being the authors of the murder of five Macedonians two years ago.
But there are also different opinions about the reasons why the people took on the streets to express their revolt. Different slogans launched during the protest show that protesters are unhappy with the current government and political parties.
"I believe that there are different reasons. One of them relates to the fact that institutions in Macedonia favor one ethnicity, the Macedonian one. It's not acceptable that 500 million USD are spent in one part of Skopje for statues and other constructions, while the other part of Skopje experiences urban chaos without roads, infrastructure and other conditions. It's not acceptable that criminal events and murders take place within a short period of time and then to blame Albanians for them and sentence them to life in prison. Without any proof and with secret witnesses, charges are brought against Albanians. The schools attended by Albanians are in miserable conditions, while new schools are being built in areas inhabited by Macedonians. There are many factors that have led to Albanians to come out on protest", says for IBNA journalist Suat Saqipi.
But, analyst and university professor, Arsim Sinani says for IBNA that Albanians come out on protest because they're not happy not only with the government, namely the Albanian party in power BDI (Democratic Union for Integration), but they're also unhappy with the role of the opposition.
"Citizens are finally obliged to take on the streets and express their anger and revolt. This anger shows that the citizens are not happy with the current leadership and now they're playing the role of the opposition. Albanian opposition is passive and we have a process where Albanian population has taken on the streets in order to play its role by articulating the real situation and demanding for their rights to be respected", says Arsim Sinani.
But, Macedonian expert on political affairs, Saso Klekovski says that such protests held by Albanians are not something new and that they've also happened in the past.
"These protests against a court ruling are not something new. These protests are against the Albanian political factor in Macedonia. It's clear that Albanians are not happy with the attitude of Albanian parties", says Klekovski.
According to him, there's little chance that these protest will be used for the formation of a new political party in the country.
Asked as to whether these protests will have an impact in the functioning of the new governing coalition between VMRO-DPMNE and BDI, Klekovski says that he doesn't expect any eventual consequences in relation to the coalition.
Arsim Sinani also says that nothing is expected to happen within the coalition, bearing in mind the international factor, which is being involved in an indirect active agenda to calm the situation down and to restore normality and encourage debate on issues that have brought protests and violence.
"I think that if BDI will not take any immediate measures to restore situation or to issue clear signals for a particular agenda which is encouraging Albanians to react, then there will certainly be problems. If this party won 160 thousand votes in the elections, then it must deliver its promises made to the citizens. This party must be active in solving issues that have to do with courts and Ohrid Agreement", said Sinani.
Citizens that have taken on the streets express their revolt against Albanian political parties. On Sunday, crowds of protesters swarmed on Sunday the BDI headquarters in Tetovo, but this was prevented by police. Mevlan A., a student, says for IBNA that he has participated in the protest in order to express his discontent against the Albanian parties, especially the one in power, BDI.
"I participated in the protest to express my revolt, because the party in power which was voted by majority of Albanians, is now acting irresponsibly. It has promised that it will address many issues as far as Albanians are concerned, but once it wins, it doesn't do anything and the only thing that it does is to take care of its own personal interests. We saw that BDI is very cheap when bargaining with VMRO to form the joint government. They promised and then withdrew. First they didn't recognize the president of the country Ivanov and then they didn't recognize him. They did not manage for Albanians to have the post of the speaker of parliament, they could not formalize Albanian language in the entire country and they could not even finalize other issues for the advancement of the position of Albanians and their decision making in institutions", says student Mevlan A.
But, Biljana V., from Skopje told IBNA that she doesn't agree with the protests being held by Albanians and says that it's against any type of violence which may bear consequences.
"I believe that every citizen has the right to protest, but not by manifesting violence against the other non Albanian party. Such demands must be outlined in an institutional way through dialogue and debate", says Biljana V.
Fresh protests have been warned for the next few days, but no protests took place yesterday in Skopje and Tetovo. /ibna/