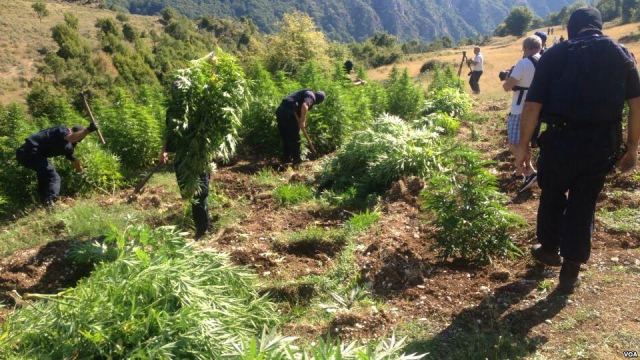 The European Union has published its report for 2016, regarding the production and traffic of narcotic substances. All the details that relate to Albania
Tirana, 6 April 2016/ Independent Balkan News Agency
By Edison Kurani
Albanians along with the Turks and the Pakistanis have been considered  as the main traffickers of heroin in Europe. This is stressed in the report of the EU Commissioner for Home Affairs , where Albania is seen as an important source location for cannabis that is trafficked in the continent.
The report published by the EU Commissioner for Home Affairs, Dimitris Avramopulos says that Albania continues to be the first country in Europe for the production of cannabis and its sale in illicit European markets.
The EU report concluded that the citizens of the EU countries spend more than 24 billion euros a year for the purchase of narcotics.
The report, the parts of which that relate to Albania and the Balkan are brought by IBNA below, warns that terrorist cells may fund some of these illicit activities.
The biggest market consists of cannabis which generates 10,6 billion euros of incomes, followed by heroin with 7,7 billion euros.
Heroin which is made from opium, comes from the countries of the Caucasian through Turkey, Albania and other Western Balkan countries. In spite of all the big operations which have taken place during 2015, where more than 3300 tons of heroin were seized all around Europe, its traffickers seem to have found other routes.
The third place is occupied by cocaine, which has 24% of the market with 5,7 billion euros a year.
Then there's amphetamine and methamphetamine with 8% and 1,8 billion euros a year. Then there's ecstasy and several other psychoactive substances.
"They often collaborate, but there are also cases where disagreements on the sale and purchase ends up in fatal episodes and armed clashes", the report says.
These groups are said to be involved not only in the drug traffic, but also in the traffic of weapons, other illicit goods and human trafficking.
Europol chief, Rob Wainwright said that although there is no strong evidence for a direct link between drugs and violent attacks, this market is mixed with other forms of crime, such as terrorism, therefore it is a big threat for the EU.
Organised crime plays a key role
Dutch and ethnic Vietnamese OCGs, in particular, are well established and are expanding cannabis herb production in several EU Member States. They also provide know-how and equipment to other criminal groups that want to start cannabis production. Intensive domestic production sites have not only been linked to violent inter-group crime and to electricity theft but are also associated with human trafficking activities. Moroccan OCGs, working in partnership with European groups, have an established role in the importation and sale of cannabis resin in the EU, with the Netherlands and Spain acting as key distribution points. However, both countries may also be important herbal cannabis producers, since a recent increase in seizures in Spain suggests growth in production. Albanian-speaking groups play a variety of roles as producers of cannabis herb in both the EU and Albania and as distributors of Afghan resin, which is making inroads in some EU countries.
Cannabis herb
In Europe, herbal cannabis tends be produced for sale on domestic markets and in neighbouring countries rather than for export outside the region. Although some cannabis herb is imported from outside the EU, it is probable that most of what is available on European markets is produced in Europe itself. A data collection tool on the number and scale of the cannabis cultivation sites dismantled by law enforcement in Europe has recently been developed by the EMCDDA and Europol. The implementation of such a data collection will systematise information on this topic, allowing a more reliable analysis of the situation. Major herbal cannabis-producing countries in the Balkan region, including Albania, Serbia, Bulgaria and, to some extent, Kosovo (14), supply the markets of central-eastern and south-eastern Europe. Albania appears to have been an important outdoor producer; however, this situation may have changed recently as a result of intensive eradication efforts in the summer of 2014. Cannabis plants were found growing on several hundred hectares in the southern municipality of Lazarat, in a mountain region near the Greek border, although commercial cannabis production probably also occurs elsewhere in Albania. Greece, where cannabis herb is also produced, is a major entry point into the EU for Albanian cannabis herb, which is distributed in several EU Member States, including Italy, Croatia, Hungary, the Czech Republic and Austria. In addition, some Albanian herb may also be sold in western Europe, for instance in France and Germany. Furthermore, Europol indicates that low-potency cannabis herb produced in Albania is trafficked to the Netherlands and used to adulterate higher-potency cannabis, the mixture being destined for the UK market. Some Member States, such as Belgium and the United Kingdom, report that some cannabis herb is imported from sub-Saharan Africa and the Caribbean. Finally, the Ukraine has emerged as an apparently large producer of cannabis in recent years; however, as yet it has not been reported as a significant source of cannabis for European markets.
Dutch and ethnic Vietnamese OCGs: key players for cannabis herb
The important role played by Dutch OCGs in cannabis production has been described above, and Dutch OCGs are known to collaborate with Albanian-speaking and Moroccan criminal gangs involved in the cannabis trade. It should also be noted that some OMCGs are involved in cannabis cultivation in the Netherlands, and in the trafficking of cannabis products to countries in northern (e.g. Denmark, Finland), north-western (United Kingdom, Belgium) and central Europe (Germany, Austria). The Netherlands is also an important distribution centre for cannabis resin, especially from Morocco, trafficked via Spain, and from there to the Netherlands via France and Belgium.
Organised crime and changing business models
Production techniques, locations, trafficking routes and associated modi operandi appear
increasingly flexible and dynamic and quick to adapt to successful law enforcement
activities. Turkish, Albanian-speaking and Pakistani OCGs are key players for heroin
trafficking into Europe. Cooperation between groups, and with local OCGs, exists and may be increasing. The use of decentralised business models facilitates the sharing of assets and logistics, and results in risk displacement. OCGs are involved in trafficking of multiple drugs, precursors, weapons, other illicit commodities and, sometimes, migrants.
***
Moroccan criminal groups are major players in the supply of cannabis resin to Europe, sometimes in partnership with European OCGs, for instance Dutch and Albanianspeaking OCGs. Some Moroccan OCGs are able to control the whole chain of trafficking, from production in the Rif mountains to retail sales in, for instance, Marseille, France. In addition, their control over wholesale imports and sales allow them to exert significant influence on most markets in Europe. These groups are reported to cooperate with each other through Moroccan communities living in Europe, especially France, Belgium, the Netherlands and the Nordic countries. Albanian OCGs are reported to be involved in the trade of Afghan cannabis resin, mostly to eastern and central Europe and, via the Netherlands, the United Kingdom. However, it seems that the United Kingdom also receives Afghan hashish directly from South-West Asia.
Albanian OCGs are reported to be involved in the trade of Afghan cannabis resin, mostly to eastern and central Europe and, via the Netherlands, the United Kingdom. However, it seems that the United Kingdom also receives Afghan hashish directly from South-West Asia.
The importance of the Balkan route
The Balkan route remains a key corridor for heroin entry into the EU. This area therefore
remains a natural focus for law enforcement efforts. Important recent developments
include the emergence of two new off-shoots to the Balkan route involving the Southern
Caucasus and Syria and Iraq. Turkey, in terms of both organised crime activities and antitrafficking measures, remains of central importance, especially given its proximity to areas of instability in the Middle East. Potential connections between flows of heroin and other drugs and terrorist groups in this region are a major concern, and Turkey is a key partner to help counter these threats.
Trafficking within the EU
Within the EU, trafficking is mainly organised by Turkish, Pakistani and Albanian-speaking OCGs with links to a wide range of local OCGs. Heroin is transported onward from the area of production by land, sea and air to the destination market. The major container ports of Rotterdam and Antwerp form an important hub, while Pakistani shipments to the United Kingdom and Spain (Barcelona) then flow to Portugal, France and Italy. The involvement of Turkish OCGs in the heroin trade in the Netherlands is illustrated by the extensive media coverage of a series of linked assassinations of members of Turkish heroin OCGs and Dutch-Turkish criminals in the Netherlands (Amsterdam) and in Istanbul in 2014 and 2015. /ibna/