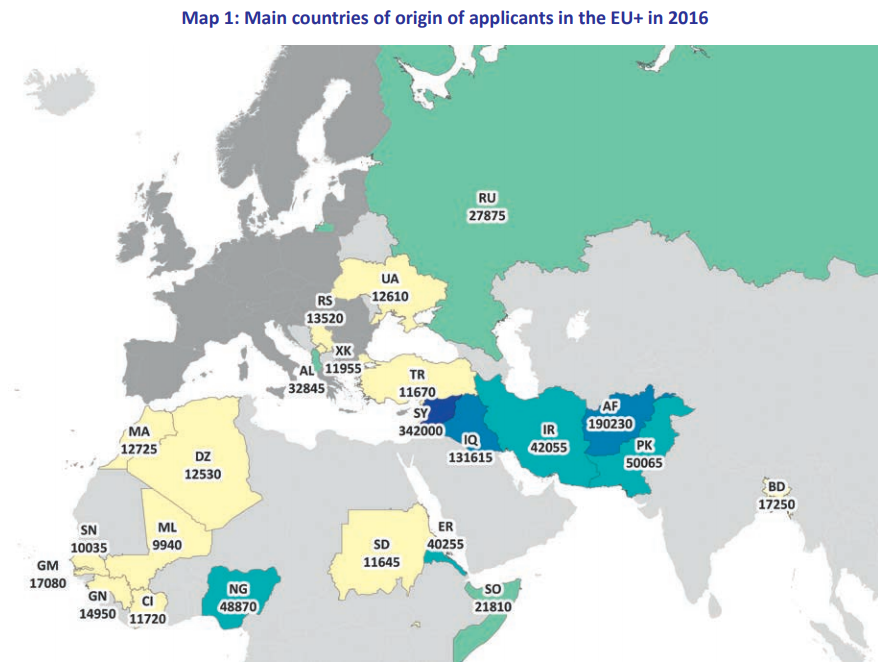 Albania ranks among the ten countries with the biggest number of asylum seekers in the European Union during 2016. Such fact is confirmed by the data supplied in the annual report of the European Office for Asylum.
According to this report, in total, the applications made by Albanian nationals account for 3% of the total of asylum requests submitted in the EU member countries last year.
This way, our country ranks alongside countries in conflict, such as Syria, Afghanistan or Iraq.
"The largest absolute decreases in applications were noted for applicants from Kosovo, Syria and Albania, and the largest relative decreases were also noted for three citizenships from the Western Balkan region: Kosovo, Serbia and Albania. Applications by these Western Balkan citizens decreased in 2016 after the EU+ was faced with a massive influx in the first half of 2015. Despite decreases, Albanian applicants have remained among the top 10 citizenships of applicants in the EU+", the report in question states.
The report also adds that "among the 20 most frequent citizenships of asylum applicants in 2016, the largest absolute increases were recorded by Nigerian and Iranian applicants".
"The overview of first instance decisions issued in the EU+ in 2016 for the 20 main citizenships of applicants also shows a high variation in recognition rates and in types of positive decisions granted to applicants of various nationalities. As in 2015, Syrian, Eritrean and stateless ( 29) applicants had the highest recognition rates with 98 %, 91 % and 88 %, respectively. The applicants with the lowest recognition rates were nationals of Western Balkan countries: the former Yugoslav Republic of Macedonia 1 %, Serbia 2 %, and Albania 3 %", the report concludes. /balkaneu.com/