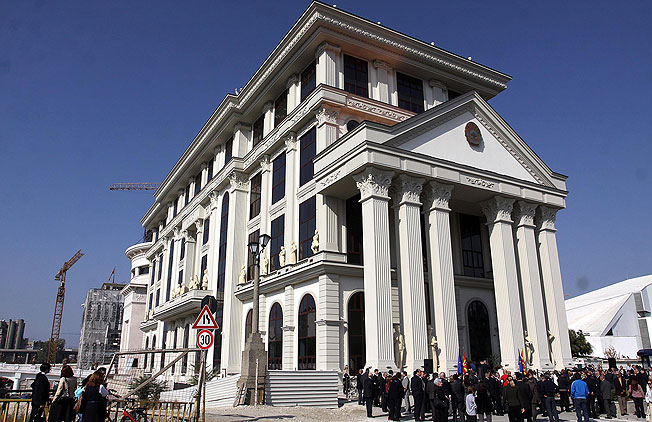 Skopje, November 19, 2013
The institution of Foreign Ministry in FYROM has not yet met the quotas for the recruitment of Albanians in this ministry, including embassies.
According to the Constitution and obligations of the Ohrid Agreement, over 25% of administration and leading positions in this ministry should be occupied by Albanians, but so far, this figure has not been met. Several days ago, the foreign minister declared at the parliamentary committee for foreign affairs that Albanians occupy 23%, but according to the data, this figure is much lower.
Employees at this ministry have stressed that the number is not as high as the minister claims. "This level cannot be 23%, because there have been constant falls and with the arrival of minister Nikola Popovski in office, only one Albanian has been employed, alongside 50 other Macedonians", has stressed an employee of the foreign ministry.
The latest report of the Ombudsman says that representation barely amounts to 19%. This figure is referred to 2012, but recruitments of Macedonians have continued and percentages of Albanians continue to remain low.
Meanwhile, representation is even more miserable in diplomatic missions. In 48 embassies of FYROM abroad, there are only 4 Albanian ambassadors, or 8.3%, 34 ambassadors or 70.8% are Macedonians, Serbs have 2 ambassadors, Bosnians have 1 ambassador and 7 vacancies are yet to be filled. A similar representation is also seen amongst general consuls. Out of 8 consuls, there is only 1 Albanian, 1 Turkish and 5 Macedonian, while there is one vacancy.
Ministry of Foreign Affairs says that it recruits people based on qualities, diplomatic abilities and professionalism regardless of ethnicity, race or religion. Nonetheless, the new bill on foreign affairs enacted on June of this year, obliges Foreign Ministry to respect the principle of fair and adequate representation. /ibna/