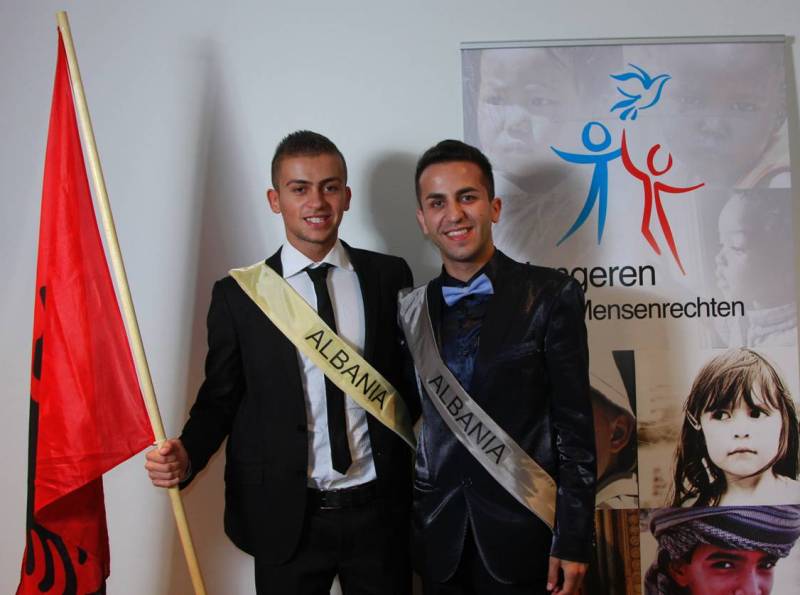 Tirana, September 16, 2014/Independent Balkan News Agency
Youth for Human Rights International hosted the 11th annual International Human Rights Summit at the International Auditorium in Brussels. Youth Delegates from 30 countries joined UN officials, human rights representatives, human rights NGOs, religious leaders and civil society at this Annual International Summit.
Local Albanian brothers Arber and Enea Kodra (photo) attended this international human rights event, traveling all the way from Albania to represent their country.
More than 200 attendees packed the venue in the heart of Brussels with the purpose to learn more about human rights, specifically the UN Universal Declaration of Human Rights and to inspire others to become advocates for tolerance and peace.
Approximately 60 Youth Delegates and Youth Ambassadors from around the world joined by local youth carried their flags side-by-side during the opening ceremony of the 3-day summit including Albania, Argentina, Australia, Austria, Cambodia, Colombia, Congo, Denmark, France, Germany, India, Italy, Liberia, Maldives, Mali, Mexico, Mongolia, Nepal, Netherlands, Russia, Sri Lanka, Switzerland, Taiwan, United Kingdom, Ukraine, USA and Vietnamese Community.
Mistress of Ceremonies Dr. Mary Shuttleworth, Founder and President of Youth for Human Rights International (YHRI), welcomed the honored guests including UN officials and UN country mission representatives, human rights and religious leaders, NGOs, local community activists and the community at large.
Albanian Youth Ambassador, Arber, presented at the international summit and spoke about his work in Albania. He shared with the international guests that his YHR-Albania team has been hosting community events and getting the word out about human rights. Arbor said he has, "expanded our community outreach programs through actions like creating a localized flyer listing all 30 human rights and the YHRI music video, UNITED, in our own language of Albanian."
Enea, the Albanian Youth Delegate, also presented at the international summit to speak about his work in Albania. He shared with the international guests that he combines his passion for the law with the promotion of human rights. Enea spoke about his promulgation of human rights and said that him and his team, "Literally have people contacting us every day asking about our next activities and offering their help to spread the word of human rights."
Both Arber and Enea Kodra were well received and YHRI was very pleased they were able to share their work in Albania with the international community.
A highlight of the event was the presentation of four Human Rights Hero Awards to delegations from Australia, Colombia, Mexico and Nepal for their work promoting Human Rights Education.
Founded in 2001, Youth for Human Rights International now has groups and chapters on all continents. Dr. Mary Shuttleworth, Founder and President of Youth for Human Rights International said: "These youth bring their own passions to Human Rights Education taking it to a whole new level by bringing the United Nations Universal Declaration of Human Rights to their peers through creative ways such as murals, rap dances, walks for human rights, large concerts and out into the rural areas where resources are limited through plays depicting the 30 human rights. Human Rights Education is expanding exponentially." /ibna/